FEMA Relief To Be Available for Uninsured Storm Losses
Details

Written by

Joanne Wallenstein

Hits: 1278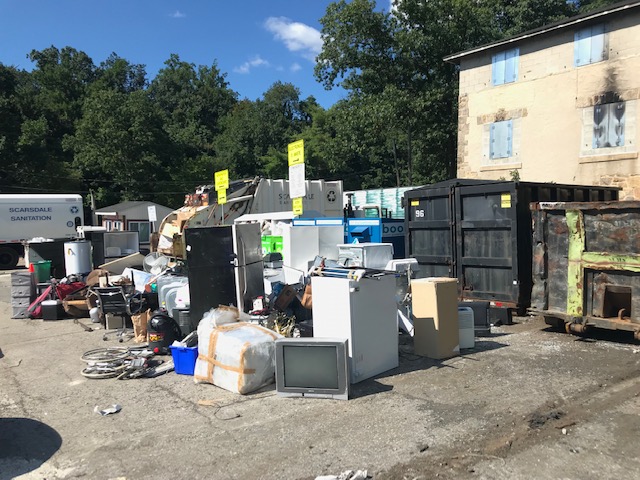 Recycling center Saturday afternoon post-Ida. As one resident observed as he recounted his losses — it's just stuff. However, there was a lot of it. Photo by Jon MarkAs residents clean up flooded basements and towed deluged cars, County Executive George Latimer announced that FEMA relief would be available to both individuals and municipalities who suffered uninsured losses from Hurricane Ida. On Monday September 6, Latimer announced that Governor Kathy Hochul had expedited the Major Disaster Declaration for New York and FEMA will provide economic relief for Westchester.
At a press conference Latimer said he had personally toured areas devastated by flooding in Yonkers, Mamaroneck, Rye, downtown Chappaqua, Mt. Kisco and Port Chester. He said businesses and individuals had disastrous economic losses and the flooding had caused dangerous health conditions from water and mold. He reported 200 cars lost to flooding in the Village of Mamaroneck, abandoned cars along the Hutchinson River Parkway and flooded businesses and restaurants in Port Chester.
Sadly, five Westchester residents died as a result of Hurricane Ida.
In order to assist residents with disposal of wet debris, the County opened their transfer stations for additional hours and ramped up garbage pick up. He also said that there has been an increase in demand at the county's food pantries.
In order to get assistance for uninsured losses, Latimer encouraged residents to take pictures and make lists of lost items and their cost. He said that a mobile disaster recovery center will be made available and residents will also be able to apply online for reimbursement for losses. Find resources and links on the Scarsdale Village website here: Relief application forms and information will also be available at https://www.westchestergov.com.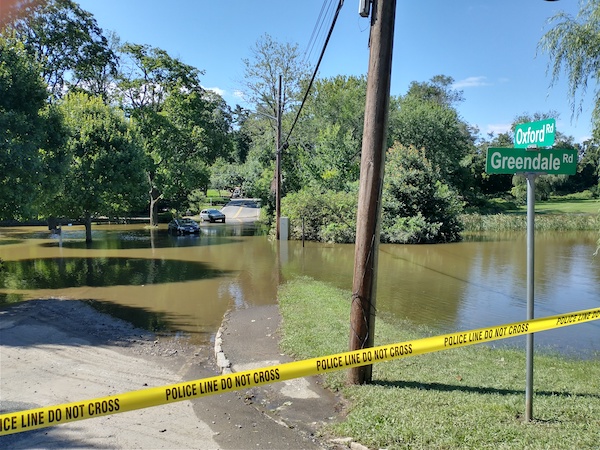 Flooding at George Field the day after Ida. Photo by David Krembs
Updated Road Work Schedule for the Week of August 24
Details

Written by

Joanne Wallenstein

Hits: 1716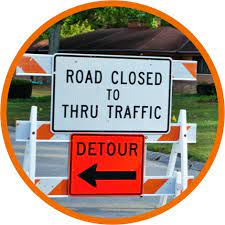 The Village is currently in the midst of doing repaving and curbing of many streets. This year $1.5 million was allocated toward road work, and summer is the time the work is done. We asked Village Engineer Dave Goessel for the schedule of road work for this week and below is what he shared.
This is in addition to the closure of Walworth between Fenimore Road and Greenacres Avenue where a gas pipeline is being installed by Con Edison.
Here is the road resurfacing schedule confirmed with the contractor. Avoid these streets if possible!
Tuesday, August 24th

Road Resurfacing 8:00 AM to 5:00 PM
Balance of Fenimore Road, Oakstwain Road, begin Brewster Road (Fenimore toward Sage Terrace)

Wednesday, August 25th

Road Resurfacing 8:00 AM to 5:00 PM
Balance of Brewster Road, Sage Terrace, Donellan Road,

Thursday, August 26th

Road Resurfacing 8:00 AM to 5:00 PM
Brite Avenue (Fenimore to Huntington), Huntington Ave (Brewster to Montrose)

Friday, August 27th

Road Resurfacing 8:00 AM to 5:00 PM
Completion of all roads if necessary.

The schedule is weather dependent and may be adjusted accordingly for rain.


New Video Series: Introducing the People Who Run Your Village
Details

Written by

Joanne Wallenstein

Hits: 1369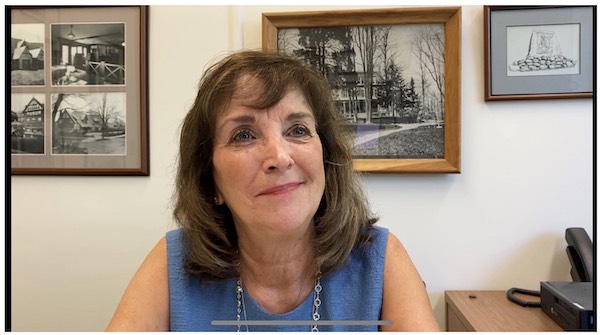 Who is running Scarsdale Village and what do they do? A new video series produced by the Advisory Council on Communications and Village staff allows you to come face to face with people like the Police Chief, the Village Assessor and the Village Treasurer, though you haven't broken the law or forgotten to pay your taxes.
In this charming video series, you'll see the people who hold key positions and learn about the extent of their responsibilities. Check them out here:
Here is a press release from the Village with more information about the endeavor:
Village Voices: Meet the Local Officials Who Make Scarsdale Shine!
Condoleezza Rice once commented, "There's no greater challenge and there is no greater honor than to be in public service."
The many volunteers supporting both the Village of Scarsdale and the Scarsdale community, whether as members of our many boards and councils or as members of our community-based organizations, and our professional staff dedicate countless hours to maintaining and enhancing our local quality of life. Often, their work is beyond public view, yet all members of our community reap the benefit of their collective commitment to excellence in public service – the magic dust that helps to make Scarsdale shine.
Members of the Advisory Council on Communications, chaired by Dara Gruenberg, have collaborated with Village staff to produce a series of video shorts – "Village Voices: Meet the Local Officials Who Make Scarsdale Shine!" – to help introduce you to the leadership staff at Village Hall, many of whom you may only be acquainted with by name phone or email.
The Village Voices video collection provides a small window into the roles and duties our professional staff and their respective departments are responsible for. At the same time, we hope you appreciate being able to attach a face to the names you see on our website and elsewhere.
We believe you will enjoy the new video series. Please take time to periodically view the Highlight Story on our landing page at scarsdale.com, as we will be adding more videos to the collection.
(Pictured at top: Village Clerk Donna Conkling)
Rob Cole Named Scarsdale's 6th Village Manager, Zoning Changes Enacted to Limit Home Size
Details

Written by

Joanne Wallenstein

Hits: 1314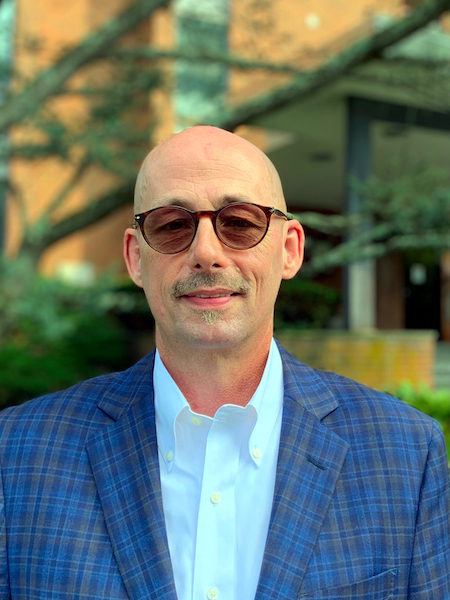 At an in-person and virtual summer meeting of the Scarsdale Board of Trustees on August 10, 2021, Deputy Village Manager Rob Cole was named the sixth Village Manager in Scarsdale's history.
The mayor and members of the Board of Trustees expressed unanimous support for Cole, who they chose after an extensive national search.
The Mayor explained that the Village had "cast a wide net," and interviewed an impressive roster of candidates from across the country. The Village surveyed residents to determine what qualities they sought in a Village Manager and spoke to Village Staff about their priorities. Veron said Cole was "undoubtedly the right person at the right time."
Voicing her support for Cole, Veron said, "Rob embodies the values of our community and has the skills and capabilities to partner with us to shape the future of Scarsdale. It is clear that Rob has a deep understanding of our community, has internalized our goals and challenges, and has the insight and wisdom to chart our future course. His belief system parallels ours: collaboration, transparency, innovation; respect, dignity, responsiveness, progress. Most importantly, Rob knows that our Village is only as good as the people we employ. He recognizes that our department heads and staff are the best in the business. "
Joellen Cademartori of GovHR USA, the search firm that was retained to manage the process, was in attendance at the meeting and explained that 56 applications were received. After a comprehensive vetting process, 14 were presented to the Village Board, seven were selected to be interviewed and two finalists were chosen, from which Cole was chosen.
Cademartori praised the work of the Village Board and staff, saying, "The efforts of the board and Mayor were unsurpassed. I have worked with many clients and you are probably the top five in my mind."
In response to questions about why the Board undertook the cost of a national search when Cole was already in Scarsdale, Board member Sameer Ahuja said, "Had we not done a national search, I would not have been comfortable." About Cole he said, "The ability to say no is as important as the ability to say yes. I have seen him push back and challenge staff. He will be a leader and a trusted manager of the day –to-day affairs of the Village."
Looking back at Scarsdale history, Trustee Whitestone noted that the position was first created in 1941 when Village Engineer Arthur Boniface was named the first Village Manager. He added, "Rob Cole will continue that great tradition."
Jonathan Lewis said, "As we seek to transform our Village into a model, it's clear that Rob Cole is the best candidates for this moment ….. We aspire to nothing less than the highest standards… Rob Cole will not only meet but exceed these expectations."
During Public Comments Dara Gruenberg of Hampton Road called in to say, "I am thrilled to congratulate Rob Cole on his appointment to Village Manager and I commend the board on their great selection. I have worked closely with Rob for the last several years through our work on the Advisory Council on Communications and in other capacities in my volunteer life and as a resident. I cannot think of a better person to take on the role of Village Manager. Rob is exceptional. He is a great listener, a problem solver and has a knack for taking creative ideas and turning them into reality. He has a refreshing can-do attitude and always makes times for residents. Congratulations Rob! I can't wait to see all you will accomplish in partnership with our fantastic village staff, our hardworking village board, dedicated volunteers and residents.
Michael Levine, Michael Rubin and Robert Berg also congratulated Cole noting his diligence and commitment to the residents and the community.
And Cole said, "Today marks a professional milestone for me – one of six village managers since 1941…. I will strive to make public service rewarding for the staff and emphasize accountability, transparency and responsiveness to residents.
I look forward with great optimism to partner with Village staff to shape the Scarsdale of the future…. I genuinely love the Scarsdale community and cherish the opportunity to serve."
Changes to Zoning Law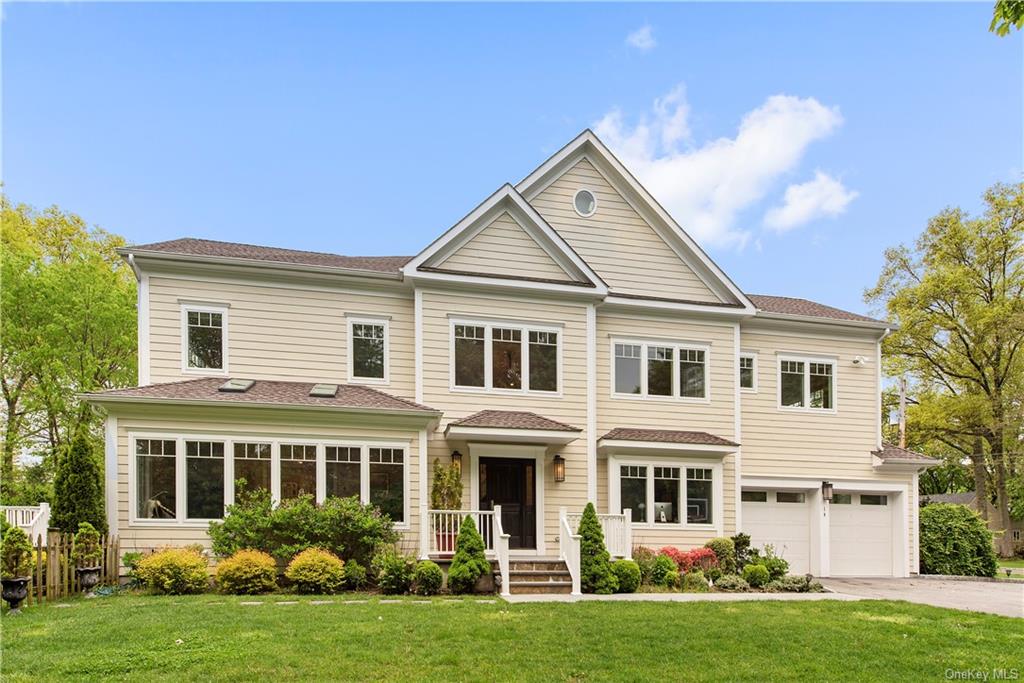 After many months of discussion and consideration by the Village's Lane Use boards, the Board held a Public Hearing and approved some changes to the zoning code to reduce the bulk and height of homes. The new law reduces FAR and side yard bonuses that were often used to maximize the permitted size of a home.
These changes were made in consultation with former Village Planner Liz Marrinan, current Village Planner Greg Cole and Building Department head Frank Diodati.
There were few comments on Tuesday however Bob Harrison voiced his support for the limitation on the height of homes down from 35 feet to 32 feet.
Following a public hearing and a vote these changes were made to Scarsdale's Zoning Code and are effective immediately:
No residential building shall exceed 32 feet in height and in no case shall a story of any building be less than nine feet in height.
Any house which exceeds 15,000 square feet of gross residential floor area shall be required to obtain a special permit from the Zoning Board of Appeals.
Exemptions from the calculation of floor area ratio in Residence A Zones:
D. Garages
(1) On lots measuring 9,999 square feet or less, the lesser of (a) 250 square feet or (b) the total floor area [contained] within [one-story] garages (measured only on the level of the garages where cars are to be parked), either detached or attached to the principal structure, shall be excluded from the calculation of the FAR.

(2) On lots measuring 10,000 square feet or more, the lesser of (a) 400 square feet or (b) the total floor area [contained] within [one-story] garages (measured only on the level of the garages where cars are to be parked), either detached or attached to the principal structure, shall be excluded from the calculation of the FAR.
(3) In those instances where an additional story is provided above a garage, whether detached or attached, such floor area or garage floor area, up to the limits set forth herein as defined by lot size, shall be excluded from the calculation of FAR. For purposes of Subsection D, attic space or area under a sloped roof shall not be construed to be an additional story unless it meets the criteria of Section 310-103C(1) above
(4) Notwithstanding the above, Subsection D shall not apply to basement garages.
Section 4: Section 310-104 Side yard setback FAR bonus of the Scarsdale Village Zoning Code is hereby amended to read as follows:
Section 310-104. Side yard setback FAR bonus.
A. In all Residence A Zones, except the AA-1 Zone, for each additional foot that a house is set back beyond the minimum required side yard setback, an additional 100 square feet of floor area above the maximum permitted FAR on that lot as per Section 310-102 shall be permitted.
(1) In the case of additions to existing homes, the additional or bonus floor area is added to the rear of the existing house; and]
(2) Such an addition complies with the maximum height, maximum lot coverage, and minimum setback requirements of the Scarsdale Zoning Code.]
B. The maximum bonus shall be280 square feet for lots located in the A-4 and A-5 Residential Zones, 490 square feet for lots located in the A-2, A-2a, and A-3 Residential Zones and 840 square feet for lots located in the A-1 Residential Zone.
What Else?
Road Work
The streets are alive with paving, curbing and the installation of a new gas line, making it difficult for some to get around. See the complete schedule of road closures here:
Pomerantz Moving On
Lauren Pomerantz, a Licensed Clinical Social and the Senior Youth Outreach Worker at the High School announced that she will take a new position at Hendrick Hudson High School. Lauren joined the Scarsdale Family Counseling service in 2005 and has worked with hundreds of students and families for sixteen years.
Funding for Scarsdale Family Counseling Service
The Board of Trustees approved two resolutions to fund programming for Scarsdale Family Counseling Service. The first was for $53,200 for the Aging in Place Program for Scarsdale senior citizens.
The second allocation was for the Youth Services Project, whose budget of $518,872 is shared by the Village and the school district. Trustees approved $259,436 to underwrite this program.
Parking
Trustee Justin Arest reviewed some potential changes to Village parking and fees, now under consideration. The proposed changes can be reviewed here.
NYS Department of Transportation Renumbers Hutchinson River Parkway Exits
Details

Written by

Joanne Wallenstein

Hits: 2630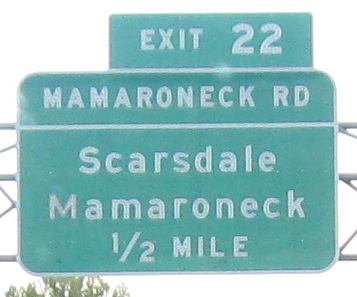 If you thought you lived off Exit 22 of the Hutchinson River Parkway, the Mamaroneck Road exit, think again! As if life wasn't confusing enough, the New York State Department of Transportation has decided to renumber the exits. So moving forward, the Mamaroneck Road exit will become exit 12.
Why? Here's the official explanation we received:
As part of a New York State Department of Transportation project to install new reflective signs, the DOT is also transitioning to a mileage-based exit numbering system, replacing the consecutive exit numbering system.
Under the new system, exit numbers correspond to mileage markers. So, an exit between mileage markers 1 and 2, will be numbered Exit 1. If there are additional exits before mileage marker 2, the exits will have letters added -- 1A, 1B, 1C, etc.
Below is a table from the NYS DOT showing the old consecutive exit numbers and the corresponding new mileage-based exit numbers.