Where to Get a COVID Test
Details

Written by

Joanne Wallenstein

Hits: 4976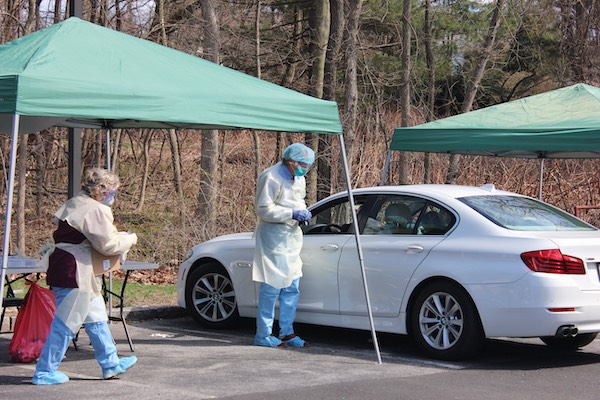 As the virus spreads, it becomes more and more difficult to get a COVID test. People need test results to exit a quarantine, return to work or school or to visit family and it feels like the tests are in short supply. With long lines at many testing centers, you might prefer to try to get an appointment in advance before waiting in the cold.
The White Plains Public Library posted this excellent list of local testing sites with details about what kinds of tests they offer, hours, contact information and instructions on how to schedule your test. Thanks to the library for allowing us to repost this vital information. Visit their website here:
CityMD White Plains Urgent Care
Urgent Care Clinic
222 Mamaroneck Avenue, White Plains
(914) 401-4282
Monday-Friday, 8:00 a.m.-6:30 p.m.
Saturday-Sunday, 9:00 a.m.-4:30 p.m.
CityMD is currently offering three forms of COVID-19 testing at all locations:
Rapid testing
PCR testing
Serum Antibody IgG testing
COVID-19 testing is walk-in only.
"Due to increased testing demand, once a location is closed we will not be able to add any new patients to the line, but will attempt to see everyone in line at that point. In some special cases, we may need to cut the line off earlier than closing time, so please plan your visit accordingly."
www.Citymd.com
CVS Health COVID-19 Drive Thru Testing Site
By Appointment Only Drive-thru
270 Halstead Avenue #278, Harrison, NY 10528
(866) 389-2727
Monday-Sunday 10:00 a.m.-3:30 p.m.
Non-Rapid Testing Results in 6-10 Days
Appointment Required
Screening Required
Restrictions Apply
Testing Available for Children 12+ Years Old
CVS Health COVID-19 drive thru test locations are by appointment only, patients must register at https://www.cvs.com/minuteclinic/covid-19-testing.
Formation Health Rapid Testing
Drive-thru or Walk up
2975 Westchester Avenue, Harrison, NY 10577
(914) 688-1288
Monday-Sunday 8:00 a.m.-7:00 p.m.
Rapid Testing Results in 15 Minutes
Appointment Required
Screening Required
www.formationhealth.com
Forme Medical Center & Urgent Care in White Plains Clinic
7-11 S Broadway, White Plains, NY 10601
(914) 723-4900
Monday-Friday, 8:00 a.m.-6:00 p.m.
Saturday & Sunday, 9:00 a.m.-1:00 p.m.
Non-Rapid Testing Results in 3 Days
Screening Required
Antibody Testing: Available
https://formemedicalcenter.com
GoHealth Urgent Care- Tarrytown
Urgent Care Clinic
650 White Plains Road, Tarrytown, NY 10591
(914) 266-3102
Monday-Friday 8:00 a.m.-8:00 p.m.
Saturday 9:00 a.m.-5:00 p.m. Sunday-closed
Non-Rapid Testing Results in 7-14 Days
Screening Required
Restrictions Apply
Antibody Testing: Available
Schedule a virtual visit or check-in online
www.gohealthuc.com
Montefiore Medical Center – Tarrytown Outreach Site 1
Drive-thru
555 South Broadway, Tarrytown, NY 10591
(800) 636-6683
Monday-Friday 9:00 a.m.-5:00 p.m.
Saturday and Sunday-Closed
Appointment Required
Screening Required
Restrictions Apply
APPOINTMENT IS REQUIRED. Individuals who would like to be tested must make an appointment by calling NYS COVID-19 Hotline 888-364-3065. NO WALK-INS allowed. All patients must remain in the vehicle.
coronavirus.health.ny.gov/covid-19-testing
Scarsdale Medical Group
Clinic
259 Heathcote Road, Scarsdale, NY 10583
(914) 723-8100
Monday-Friday 8:00 a.m.-4:00 p.m.
Saturday and Sunday closed
Appointment Required
Physician Order Required
Screening Required
Restrictions Apply
Antibody Testing: Available
In order to prepare in advance for your safety, walk-ins will not be accepted. All appointments must be scheduled by calling (914) 723-8100.
https://www.scarsdalemedical.com/location-and-hours.html
SOMOS: Little Ones Pediatrics
280 Mamaroneck ave Suite 312, White Plains, NY 10605
(914) 934-8415
Wednesday Only, 2:00-5:00 p.m. by appointment only
Pediatrics patients. Antibody testing only. Go to the website for an assessment & appointment. Virtual screening.
Drive-thru
Antibody testing
https://somostesting.mdland.com/p/covid
Urgent Care Of Westchester
Drive-thru
155 White Plains Road, Suite 210, Tarrytown, NY 10591
(914) 372-7171
Monday-Friday 8:00 a.m.-8:00 p.m.
Saturday and Sunday 9:00 a.m.-3:00 p.m.
Rapid Testing Results in 24 Hours
Non-Rapid Testing Results in 2-5 Days
Appointment Required
Screening Required
Antibody Testing: Available
Virtual screening is required with onsite providers. Your appointment will be scheduled, bring photo ID, wear a mask, and stay in vehicle. Call front desk when you arrive. They will come out to collect test.
https://urgentcareofny.com
Armonk Urgent Care
99 Business Park Drive. Armonk, NY 10504
(914) 849-7999
Monday-Friday, 1:00 p.m.-9:00 p.m.
Saturday-Sunday 9:00 a.m.-5:00 p.m.
Asymptomatic patients will be tested via a tent outside.
Westchester Medical Center – Drive-Thru
Hospital and Drive-thru
100 Woods Rd, Valhalla, NY 10595
(914) 202-4530
Monday-Sunday 8:30 a.m.-6:00 p.m.
Non-Rapid Testing Results in 5 Days
Appointment Required
Screening Required
Restrictions Apply
Antibody Testing: Available
APPOINTMENT IS REQUIRED. Individuals who would like to be tested must make an appointment by calling NYS COVID-19 Hotline 888-364-3065. NO WALK-INS allowed. All patients must remain in the vehicle.
www.westchestermedicalcenter.org
Westmed Medical Group
210 Westchester Avenue
White Plains, NY 10604
(914) 682-0700
Monday-Friday, 8:00 a.m.-8:00 p.m.
Saturday & Sunday, 9:00 a.m.-5:00 p.m.
COVID-19 testing available for symptomatic patients or patients with direct exposure only.
https://www.westmedgroup.com/
White Plains Hospital-Emergency Department
General Hospital
White Plains, NY
(914) 681-0600
COVID-19 testing center
Opened 24 Hours
Appointment not required
Referral not required
Tests limited to certain patients
Instructions: NO APPOINTMENT IS REQUIRED. WALK-INS allowed.
www.wphospital.org
White Plains VA Clinic
Medical clinic
23 S Broadway, White Plains, NY 10601
(914) 421-1951
COVID-19 testing center
Appointment required
Referral required
Tests limited to certain patients
Monday-Friday, 8:00 a.m.-4:30 p.m.
Saturday and Sunday closed
www.va.gov/coronavirus-veteran-frequently-asked-questions/
In addition to the locations above, you can search for other nearby testing sites on the NYS COVID website.
Bee-Line Bus Crash at Scarsdale Train Station
Details

Written by

Joanne Wallenstein

Hits: 4209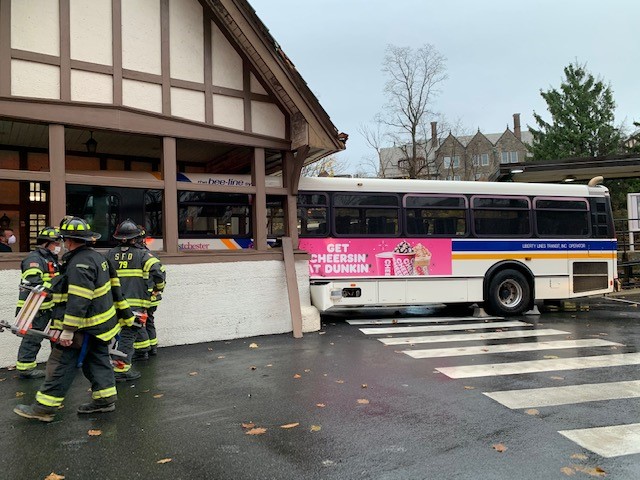 (Updated) MTA spokesman Aaron Donovan reported that the MTA is investigating a bus crash at 8:26 am on Monday November 23 at Scarsdale Train Station. A Westchester County Bee-Line bus carrying no passengers struck and became wedged in the weather-protection overhang in the passenger drop-off area at the Scarsdale Metro-North station. The MTA Police are investigating the cause of the collision.

Metro-North Railroad personnel inspected the station and found it was undamaged. They reported no impact to train service. The bus driver sustained only minor injuries.

Later in the afternoon, Scarsdale Fire Chief Jim Seymour reported that the Scarsdale Fire Department was dispatched to 1 Depot Place just after 8:30 am. They found a Bee-Line bus that struck the Scarsdale Training Station building. The bus was unoccupied at the time other than the driver/operator. Crews were able to remove the driver/operator through an emergency window and she was evaluated by Scarsdale Ambulance Corps at the scene. Scarsdale Fire, assisted by the Fairview, Greenville and Hartsdale Fire Departments, installed temporary shoring to ensure structural stability in order for the bus to be removed. Also on location were units from the Scarsdale Police Department, the MTA Police and Fire Departments and members of the MTA Building Structures Division. The bus was removed without further incident or injury following an approximate two-hour operation.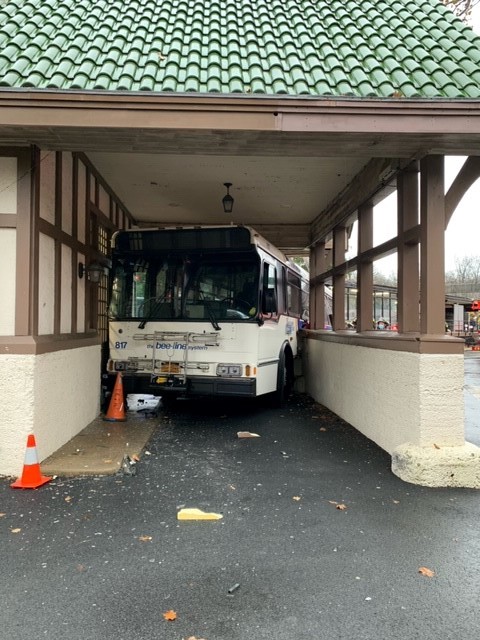 Photo Credit: MTA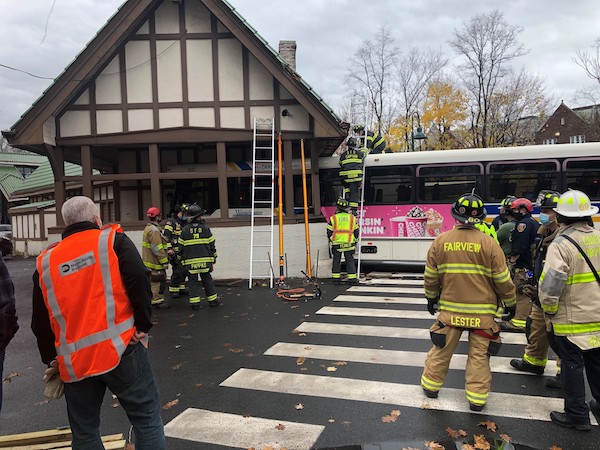 Photo Credit: Scarsdale Fire Department
COVID, COVID, COVID: Infection Rate on the Rise In Westchester
Details

Written by

Joanne Wallenstein

Hits: 3010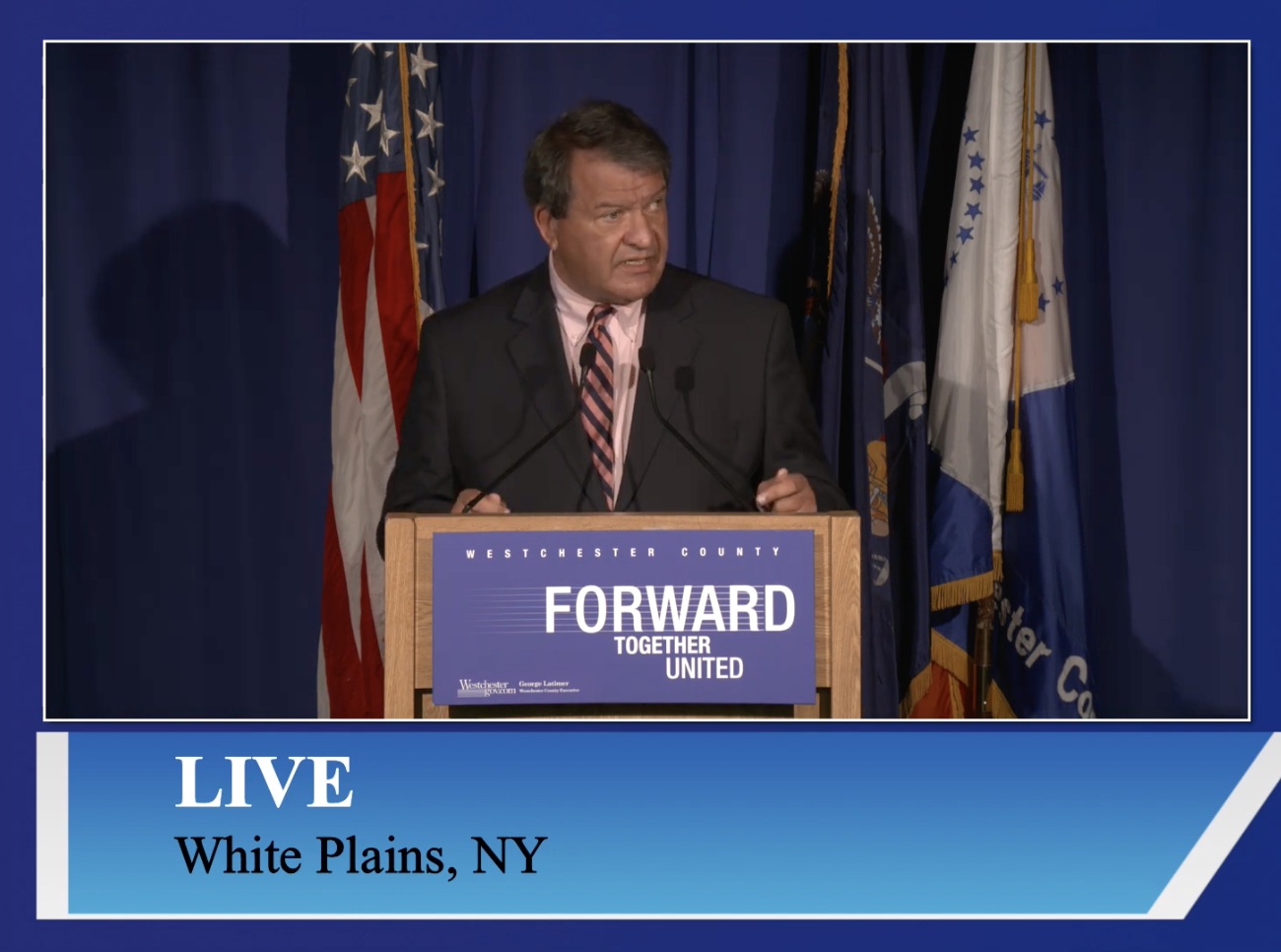 Though the number of active infections in the Scarsdale Schools remains low, there are signs that COVID is on the uptick in Westchester County.
As of November 5, the NYS Department of Health reports 1 positive student at Fox Meadow Elementary School, 1 positive staff member at Edgewood Elementary School, and 4 students and 1 staff member positive at Scarsdale High School for a total of 7 cases district wide. However here were additional reports from the school district since November 5, so that case count may be higher.
According to the district, over 100 students are currently quarantined due to exposure to those who are positive, primarily from contacts outside school.
According to Westchester County, as of November 9 there were a total of 10 active cases in Scarsdale.
But countywide, the numbers are far more concerning. As of Monday November 9, County Executive George Latimer reported rising infections, hospitalizations and fatalities and announced that a "yellow zone" had been declared in Port Chester and parts of Rye Brook. Latimer said, we are "seeing a steady increase in the virus."
Here are the numbers:
-Year to date there are 42,179 cases in Westchester County.
-There are currently 2,048 active cases of COVID in the county. This is dramatically higher than the summer months when, on August 8, there were only 442 active cases, almost one fifth of the current count.
On November 8, 6,606, people were tested and 225 came back positive – a 3.4% rate of infection, while on August 8 the infection rate was only 1.1%.
Year to date, there were a total of 908,000 tests given in the county, a count that does include multiple tests for some people.
As of November 6, 82 people were hospitalized as compared to 48 on November 1. The number of hospitalizations has doubled in just one week. Latimer said, "The trend line is moving in the wrong direction."
In terms of deaths, Latimer reported "We have lost 1 person a day for the last 3 days. … But we only lost 7 people in July and only 4 people in August. In the month of October, 20 people passed away."
Latimer concluded that more people are testing positive at a higher percentage though we have not reached the crisis levels experienced in March and April. He said, "The trend lines are concerning."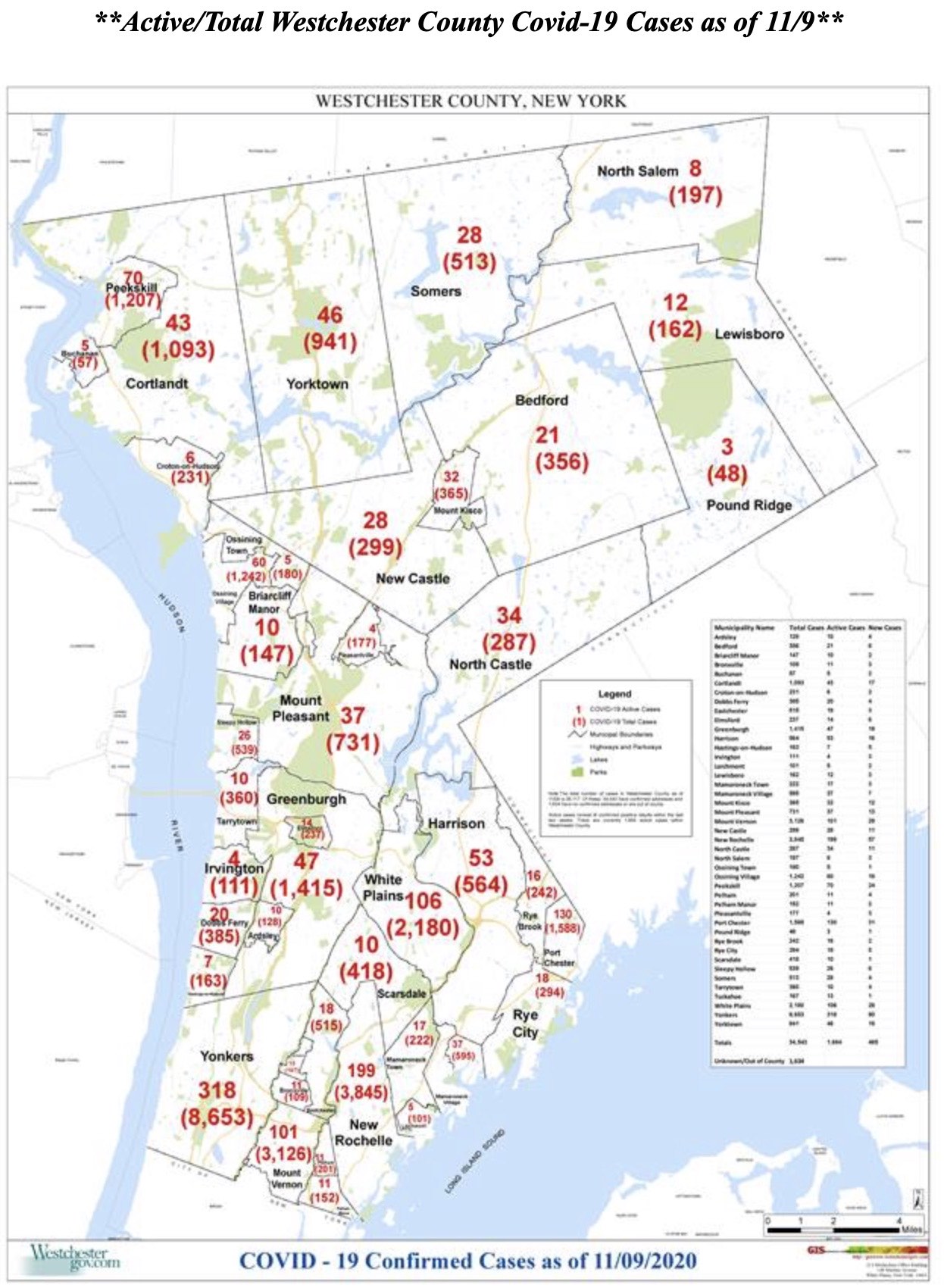 He urged residents to wear masks and practice social distancing until a vaccine is available. He noted that colder weather would bring more indoor activities and the potential for the virus to spread further.
Latimer also discussed the Governor's decision to declare a yellow zone in the Village of Port Chester and a portion of the Village of Rye Brook. According to Latimer, "The yellow zone designation is not a shutdown. It is a cautionary note to slow down due to an increase in the infection rate.
Here is what a yellow zone means as defined by Governor Cuomo:
-There is a limit of four people to a table at restaurants.
-Outside events are limited to 25 rather than 50 people.
-There are restrictions on the number of people who can attend services at houses of worship.
Latimer noted that Portchester borders Connecticut where there is also a rise in the infection rate. He said that rapid COVID testing has been ramped up in Port Chester to identify those who are positive before they spread the disease.
Latimer Says Viral Spread is Aggressive, Calls on Parents to Support Hybrid Learning Model
Details

Written by

Joanne Wallenstein

Hits: 1530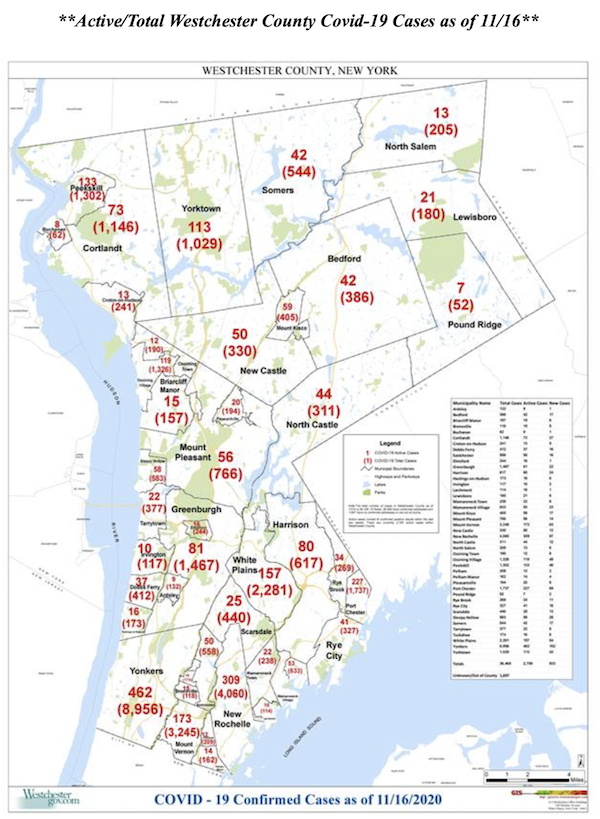 In response to rising COVID-19 infection rates in Westchester, County Executive George Latimer announced that he will now hold bi-weekly briefings. He said, "We are facing a second wave." The number of active cases in Westchester has doubled over the past two weeks with 3,515 cases as of November 16 in Westchester.
He said, the positive rate was now between 3-4% and is "heading straight up." And more people are becoming seriously ill as well. Latimer said that on November 16 there were 121 people in the hospital with COVID as compare to 47 two weeks ago. 17 people passed away in the past two weeks.
Even in Scarsdale, where the number of active cases fluctuated between 5 and 10 for many months, the map now shows 25 active cases.
According to Scarsdale Schools Superintendent Thomas Hagerman, as of November 16, the district has had 13 active cases this school year and 120 students and 22 staff members are now in quarantine. The school reports that these cases were due to community spread or contact from sports.

Latimer reported that Port Chester which was declared a Yellow Zone by the state last week, has now been declared an Orange Zone, further restricting activity and local business. Though schools remain open, there is a mandate to test sample groups of students and teachers each week to monitor the spread. Gatherings are limited to only 10 people indoors or outdoors and there is no longer indoor dining in restaurants.
The County Executive lost his patience with those who refused to comply with recommendations to wear masks and social distance, saying that these measures are required to save lives. As to those who complain about limitations on attendance at Houses of Worship, Latimer said, "These rules are not intended to limit freedom of religion – but to safeguard the community. Sacrifices are necessary to save lives. These restrictions are required so that we don't lose any more people."
In order to share information about the virus with populations that may not be aware of the risks, the county is going door to door with messaging, making robo calls and has produced a public service video. All communications are being produced in Spanish and English so that everyone can be informed.
Latimer also called for parents to understand that hybrid learning is the safest option for students and teachers. He said he has a weekly call with 40 county school superintendents and made the following statement emphasizing his support for hybrid learning models:
"As the identified rate of COVID-19 infection within Westchester County rises, we know that this creates significant challenges in our communities. School districts operating in a hybrid model, with six-foot social distancing protocols in place, are enabling students to engage in in-person learning within the school facility environment. The goal of the schools is to serve as many young people in their facilities, daily, as possible. We are also aware of the desire for some parents to have schools return to full, in person learning and bring all students back to school buildings. Unfortunately, with the rising cases of COVID-19 in our County, this is not possible at this time. Bringing more individuals into school buildings increases the density in schools and presents the possibility of significant risk of COVID-19 spread to students, staff and further risks community spread. Our health/safety protocols are working to reduce spread within our schools. Sacrificing six-foot social distancing seriously reduces the school's ability to mitigate the spread of COVID-19. The County has been working closely with local school superintendents to support the safety and mitigation efforts in our schools and communities and fully supports the hybrid models in our schools."
Who Should Receive the 2021 Scarsdale Bowl? Committee Seeks Recommendations for Honoree
Details

Written by

Joanne Wallenstein

Hits: 1067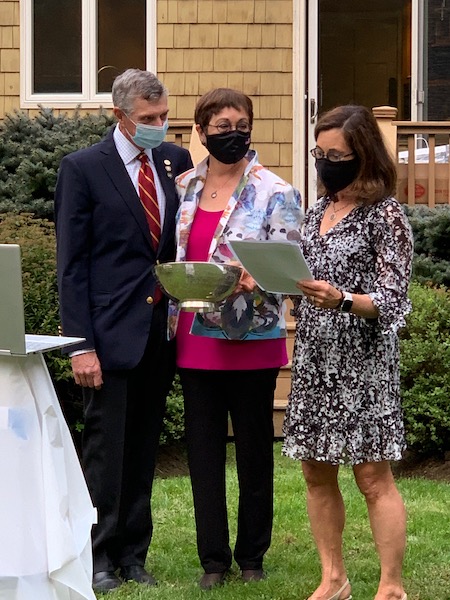 2020 Bowl Honorees Jon Mark and BK Munguia with Bowl Chair Nancy MichaelsThe 2021 Scarsdale Bowl Committee will begin working to select the 2021 recipient of the Scarsdale Bowl award at its meeting on December 13 and is seeking recommendations from the community for next year's honoree.
The Scarsdale Bowl, under the sponsorship of the Scarsdale Foundation, has been awarded annually since 1943 to an individual (or in exceptional cases, to a married couple) who has given "unselfishly of their time, energy, and effort to the civic welfare of the community." The founding donors of the Bowl believed that "many who serve generously and voluntarily, without office, honor, or publicity, are those deserving of having their names permanently inscribed on the Scarsdale Bowl." The community celebration dinner is currently scheduled to be held on Thursday, April 22nd, 2021 at Brae Burn Country Club in Purchase.
Randy Guggenheimer, President of the Scarsdale Foundation, announced that Nancy Michaels will once again serve as chair of this year's Scarsdale Bowl Committee, and Abby Sroka will continue as the Secretary/Treasurer. Members of the Bowl Committee serve a staggered two-year term. The members of the newly-appointed class of 2022 are Sergi Flaster, Elyse Klayman, Michael Rosen, Svati Shashank, Scott Silberfein, Loretta Vickers, and Han Zou. The continuing class of 2021 is comprised of Matthew Martin, Dana Matsushita, Jeff Robelen, Andrea Seiden, Janice Starr, and Amber Yusuf. Jennifer Love, a Scarsdale Foundation trustee, will serve on the Committee as liaison.
The Scarsdale Bowl Dinner 2021, themed "Shine on Scarsdale," will pay tribute to the 2021 recipient, as well as officially honor 2020 Bowl winners BK Munguia and Jonathan Mark because we were unable to gather as a community during the pandemic. The Committee is grateful that despite the dinner's cancellation, the Scarsdale community has been generous, waiving ticket reimbursements and making donations toward the Foundation's college scholarships, which are now more crucial than ever. The hope is that next year the community will be able to properly celebrate the spirit of volunteerism, central to the civic life of Scarsdale, and that another group of deserving students will benefit from the evening's proceeds. In addition, the new Honor Roll will allow everyone to recognize the day-to-day volunteerism of friends and neighbors while generating more support for the Foundation's projects.
The Bowl Committee welcomes community input for suggestions for the next Bowl honoree. Recommendations are requested by November 25th, but will be accepted any time before the December 13t meeting. Nominees must be Scarsdale residents who do not currently hold elective office. Any member of the Bowl Committee will gladly answer questions, and Chair Nancy Michaels may be reached at 725-8310 or at NancyMichaels311@gmail.com. Nominee recommendation forms may be accessed here.
Additional information about the Scarsdale Foundation and the Scarsdale Bowl may be found at www.scarsdalefoundation.org. Looking forward to being together next year!