Letter to the Editor: Freightway Development will Affect the Living Standards and Taxes of Every Scarsdale Homeowner
Details

Written by

Joanne Wallenstein

Hits: 4005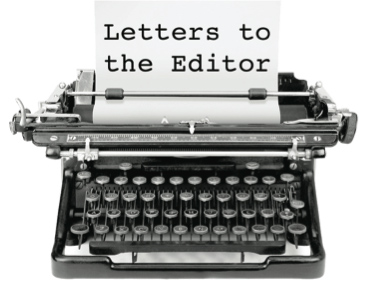 This letter to the editor was sent to Scarsdale10583 by Bob Selvaggio of Rochambeau Road:
To the Editor: Echoing Mayor Samwick's invitation in his letter to Scarsdale10583, I urge my fellow Scarsdale friends and residents to attend the public meeting about the Freightway Garage Development this Wednesday, December 11 at 7:00pm. This type of large-scale proposed project comes up only once every several decades, and how it is developed and financed will affect the living standards and taxes of every Scarsdale homeowner. All of us should work to ensure that the Scarsdale village board fulfills its fiduciary responsibilities to maximize the value of this important Village-owned asset by providing property tax relief for our single-family homeowners, enhancing the aesthetic appeal of the site, and improving the delivery of commercial, professional and recreational services to Scarsdale residents. Village Hall already has one set of useful data about our priorities for retail and recreational facilities -- the Douglass and Kirkendall-Rodríguez families performed extensive research and designed a comprehensive survey that can be found here.

Any proposal from the bidders that does not result in the near certainty of reducing the property tax burden on our single family homeowners, who have suffered a massive increase in effective property tax rates as a result of federal tax reform, or at a very minimum guarantees absolutely no increase in tax rates for years to come will be a non-starter to most Scarsdale residents. Unfortunately, the efforts of our residents with expertise in financial economics to model the impact of the Freightway development proposal and provide an economic assessment of the project to date have been thwarted by a shroud of secrecy covering the various proposals. The Scarsdale Mayor and Board of Trustees have rebuffed the efforts of residents to uncover details about the project, the financial condition of the bidders, and the financial projections for Freightway. All we know is that among the several development plans, two survived and some details about the designs of each will be revealed at a meeting open to the public in Village Hall this Wednesday. Unfortunately, the Mayor has indicated to some residents his strong preference that they not ask important questions about the financial condition of the bidders or about the economics of the project.

Among the many questions that should be raised in that meeting, especially for those looking to model and assess independently the economic impact of each proposal would be:

• What are the Village Board's current models and model outputs for the short-term and long-term economic impacts on our homeowners of each of the two proposals? Who built these models and who validated them? (Of course, these models and model outputs will hopefully be published online before the meeting so that we may ask intelligent questions about them).
• If new residential units are being contemplated, how many units and how many bedrooms? (This will allow independent analysis of impact on our school taxes)
• If new residential units are being contemplated, will these be rental units, coops, or condominiums? If the latter, is there an intention to pass the Homestead option? (This will allow independent analysis of potential tax subsidies from single-family homeowners to apartment dwellers such as those provided to Christie Place residents, for example).
• What commercial and professional office development is planned? How many units of each type? (This will allow independent modelling of net property tax receipts)
• Where can we read the audited financials of the two surviving bidders?
• Have any among the Mayor and Board of Trustees ever had personal or professional dealings with any of the bidders? Are there any actual or potential conflicts of interest that should be disclosed to Scarsdale taxpayers?
• Are any of the executives, owners or partners of the bidding firms Scarsdale residents? If so, who, and how will conflicts of interest and patronage be avoided?

Unless we citizens are satisfied with the results of short-term and long-term financial modeling of the project, we will have no way of knowing whether it will be value-adding or value-destroying (i.e., whether it should be accepted or rejected). And unless we pay attention and make our voices heard, we may well be saddled with a value-destroying (property tax-increasing) Freightway development.


Bob Selvaggio
Rochambeau Road

You're Invited: Scarsdale's Annual Holiday and Tree Lighting Ceremony-Friday, December 6 from 5 -7pm
Details

Written by

Joanne Wallenstein

Hits: 1610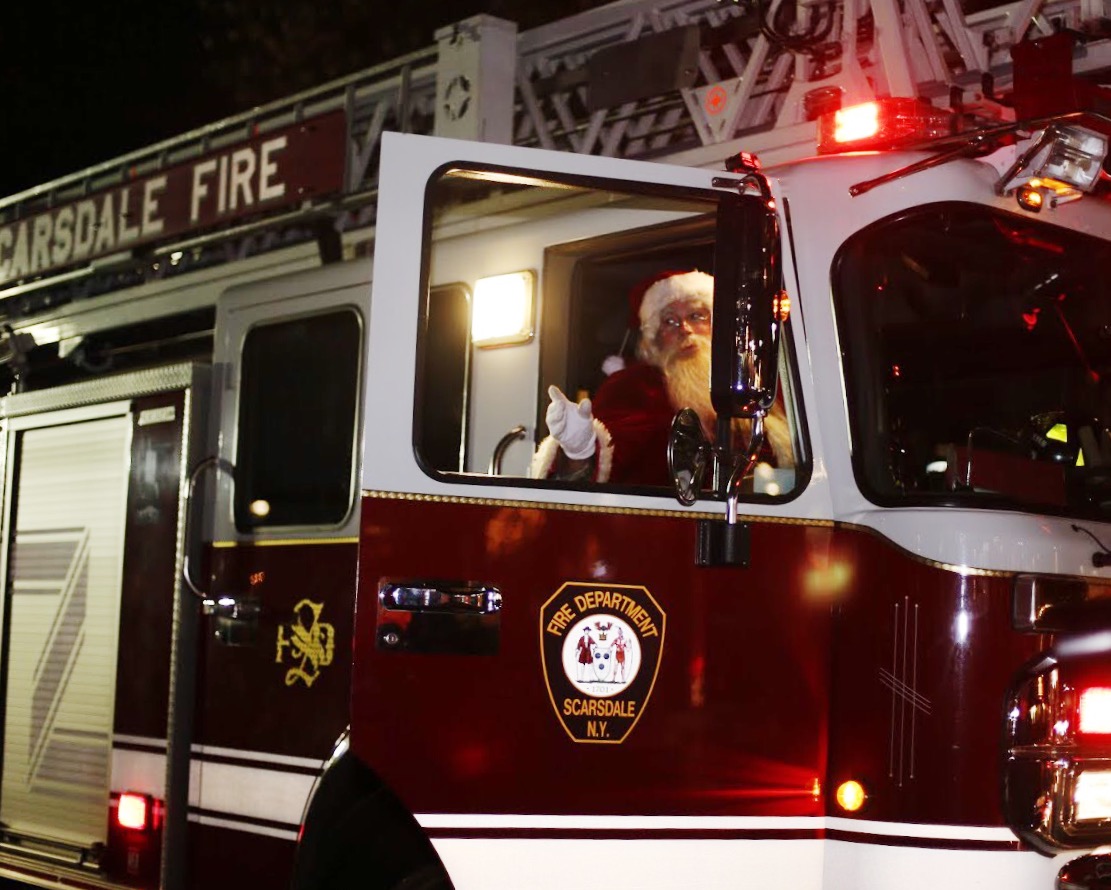 Come 'Light the 'Dale' in Scarsdale Village to welcome in the 2019 holiday season with your neighbors and friends on Friday, December 6 from 5 pm to 7 pm! Join the fun at this annual event full of good cheer, beautiful music, and great food. And don't miss out on the time-honored holiday tradition of seeing Santa arrive in style on a fire truck and complimentary hot chocolate courtesy of the Scarsdale's Police and Fire Departments!
There is fun for all ages! Come listen to and sing along with the Hoff Barthelson Holiday Carolers and SHS a cappella group For Good Measure, as they perform your holiday favorites. Santa will be visiting until 7:00 pm, so children will have plenty of time to share their gift list.
Children can enter their names for a chance to "Light the Dale" with Mayor Samwick. Scarsdale Parks, Recreation and Conservation Department will collect names at the beginning of the event, so come early to enter to win an opportunity for your child to create a magical, unforgettable memory. At 5:30 pm, the Mayor will pick one lucky winner to flip the switch to light our beautiful tree and magnificent menorah, courtesy of Westchester Reform Temple.
Children can partake in planting native pine tree seeds, decorating cookies and making beaded bracelets for the holidays! And don't forget the face painting!
And what's a party without some delicious food? Food Trucks! Food Trucks! Food Trucks! Walter's Hot Dog and Westchester Burger will be on site serving tasty bites while you and your family enjoy the festive activities.
Be sure to bring your neighbors and friends to this festive kick-off to the holidays. Mayor Marc Samwick commented, "We are so fortunate to have such a wonderful community that comes together each year to usher in the holiday season and celebrate together."
Light the 'Dale is sponsored by Scarsdale Village specifically the Village Parks, Recreation and Conservation Department, the Village Manager's Office, Scarsdale Police and Fire Departments. Special thanks to the Scarsdale Fire Department for use of the Fire Truck for Santa.
Mark Your Calendars for Upcoming Holiday Boutiques
Details

Written by

Joanne Wallenstein

Hits: 2271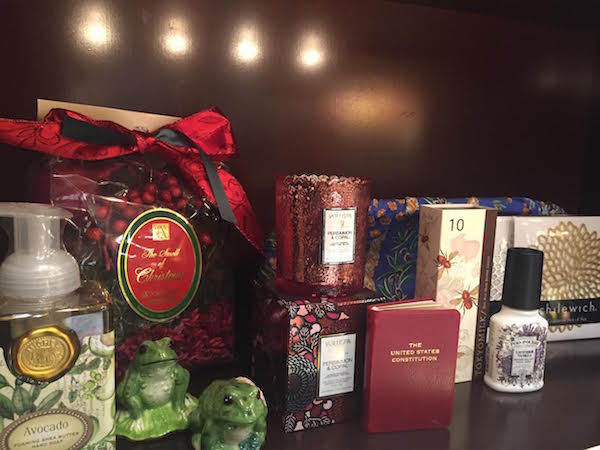 Halloween is over, Thanksgiving is just weeks away -- can Hanukkah and Christmas be far behind? You'll soon be thinking about your holiday shopping, and here are four holiday boutiques to make gift--getting easy and fun. Mark your calendar for these upcoming holiday gift fairs:

The Junior League of Central Westchester (JLCW) invites holiday gift givers to do their shopping at the JLCW's 33rd Annual Holiday Boutique! This year's event will be held on Thursday, November 21, 2019 from 10 a.m. – 8 p.m. at a new location - C.V. Rich Mansion, 305 Ridgeway, White Plains, NY.
The JLCW Holiday Boutique will feature an impressive roster of vendors, with many participating for the first time, and serves as an opportunity for the Westchester community to support small and local businesses. Nearly 40 vendors will offer a wide variety of merchandise, including jewelry, home goods, clothing, hostess gifts, items for children, men and more.
In addition to checking off items from holiday gift lists, Holiday Boutique shoppers contribute to the greater good: 20 percent of all vendor proceeds will be generously donated to the JLCW. Funds raised will enable the JLCW to support programs that promote health and literacy, provide food and necessities to the underprivileged, empower low-income families, help preserve community history, and train effective community volunteers.
Suggested donation for admission is $10. Raffle tickets will be available for purchase for a chance to win one of several fabulous prizes. For more information click here or contact JLCWHB@gmail.com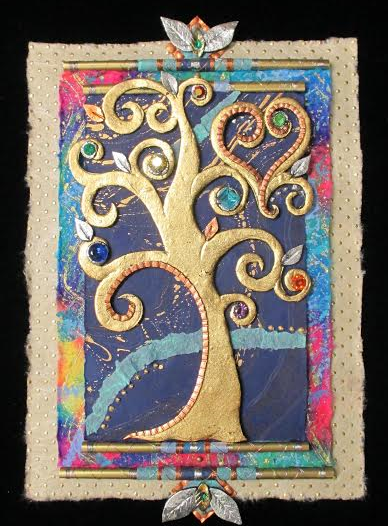 Bet Am Shalom Synagogue will host their 25th Annual Judaica Craft Show on Saturday December 7 from 8-11 pm and Sunday December 8 from 10 am – 5 pm. The show displays the finest Judaica craft and jewelry by selected artists from Israel and the U.S. Attend a festive opening night to celebrate their 25th year with entertainment provided by Proof (a/k/a the Moody Jews) and free refreshments. On Sunday, enjoy a kosher meal or snack at Cafe Shalom.
Admission per person: $12 Saturday, $8 Sunday. Learn more and receive a discount on the ticket price here:
The Kol Ami Holiday Boutique to support the Women of Reform Judaism Kol Ami Sisterhood will take place on Sunday December 8 from 9 am – 3 pm at Kol Ami, 252 Soundview Avenue in White Plains. The boutique will feature over 40 vendors with jewelry, clothing, handbags, Judaica, candles, skincare, kitchenware and more. New this year will be a B'nai Mitzvah/Special Occasion vendor showcase.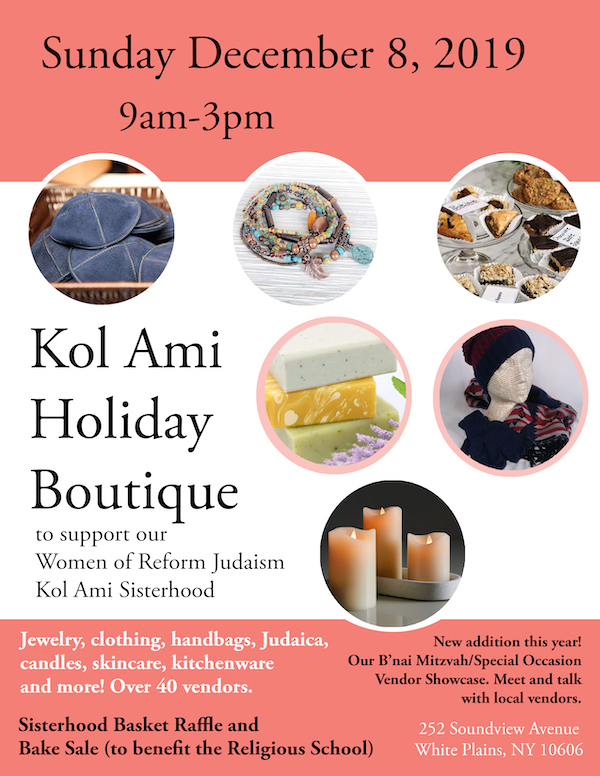 Westchester Reform Temple will hold their holiday boutique on Monday, December 9, from 10 am - 5 pm. Make shopping for the holidays easy. The boutique will feature dozens of specialty vendors selling one-of-a-kind items at all price points. Free admission and free parking.
Credit cards, cash and checks are accepted. Westchester Reform Temple, 255 Mamaroneck Avenue, Scarsdale, NY.
CNC Seeks Candidates for Village Justice and Trustee
Details

Written by

Joanne Wallenstein

Hits: 1424

Following its public organizational meeting, the Citizens Nominating Committee seeks Scarsdale residents for the offices of Village Justice and Village Trustee. In a change from past practice, candidates for Village Justice will provide their resumes to the CNC, which shall refer the candidates to the Judicial Qualification Advisory Committee. The Advisory Committee intends to meet in December, so candidates need to submit their resumes soon. The Advisory Committee has the responsibility to review the judicial qualifications of the candidates and will provide confidential recommendations to the CNC, which will then hear presentations from selected candidates.
All Village residents are invited to seek nomination for Village Justice and Trustee. Contact any elected member of the CNC, or inform the CNC Chair, Marc Greenwald, at 646-345-2122 or marcgreenwald@quinnemanuel.com, or CNC Vice Chair, Ryan Spicer at 401-225-9102 or ryan.spicer@turner.com.
Halloween Window Painting Contest Results 2019
Details

Written by

Joanne Wallenstein

Hits: 4550
It's an annual rite …. the Scarsdale Halloween Window Painting Contest. This year it was held on Sunday October 20 and kids were busy from Scarsdale Village to the Five Corners and Colonial Village decorating merchant's windows with clever Halloween-themed paintings.

According to Recreation Supervisor Dan Walczewski there were about 300 windows painted this year, up from about 260 last year. Counting team and family entries, about 700 people participated.
Anticipating rain, the Recreation Department sent out an email the night before encouraging people to paint early and for the most part they heeded the advice. They did have a few "no-shows" which may have had something to do with the weather, but it was a very small percentage of the overall number.

We asked if vacant storefronts were a problem and Dan said, "We usually request (and are granted) permission by the landlords to use the vacant storefronts, but we only use them if we need to. This year we used very few as we were able to fit the vast majority of paintings on occupied stores."
Below find a list of the winners and photos of the young artists at work. For the second year in a row, Olivia Liu took home the Grand Prize. See her painting at left.
While touring the artwork on Monday, we met Debi Kops, Anne Kaplan and her son Damian who have been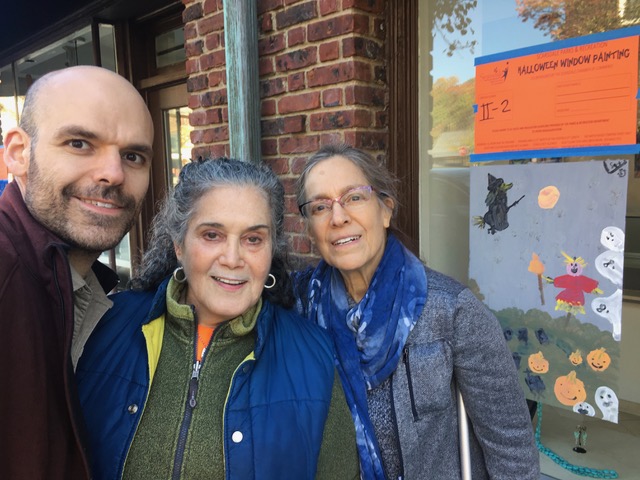 Judges Damian Kaplan, Debi Kops and Anne Kaplan. a team of judges for about 8 years. Kops explained, "Anne and I met at sleep-away camp before we were teenagers. The Scarsdale Window Painting Contest has been going on since 1952. I entered the contest 8 years in a row, when my family lived in Scarsdale. Each year I was honored and received an award for my painting, with a partner or solo. This was an important incentive for me as a young artist. After I left Scarsdale, I wanted to give back; And I do. For close to 35 years I have proudly been a Scarsdale Halloween Window Painting Judge for close to 35 years. Kudos to Dan Walczewski and the staff of The Scarsdale Recreation Department who organizes this fabulous and fun event. Celebrating Halloween has become my High Holiday."
Despite the fact that it's called a contest, the entire Village wins as we all benefit from the artwork. Congratulations to all the artists and their parents for continuing this wonderful tradition.
Photos courtesy of the Recreation Department and Charles Im.
Group 1
1 Charlotte Lemerond- Chase Bank
2 Emily Fields -Jean Claude Hair Design
3 Natalia Gutierrez -Heathcote Barber Shop

Most Comical

Trevor Miller- Heathcote Hand Laundry
Honorable Mentions

Chloe Fields -Chase Bank
Madeline Arest- Metro Deli
Eliza Pickelle- Metro Deli
Group 2
1 Whitney Rudsenske- Sam Lehr
2 Talia Koenig- Scarsdale Eye Care Center
3 Ellis Israel -Vacant
Most Comical

Ivy Fischer Scarsdale Flower Shop

Honorable Mentions
Rebecca Friedland- Scarsdale Eye Care Center
James McNally- Bango Bowls
Sophie Luo -Sam Lehr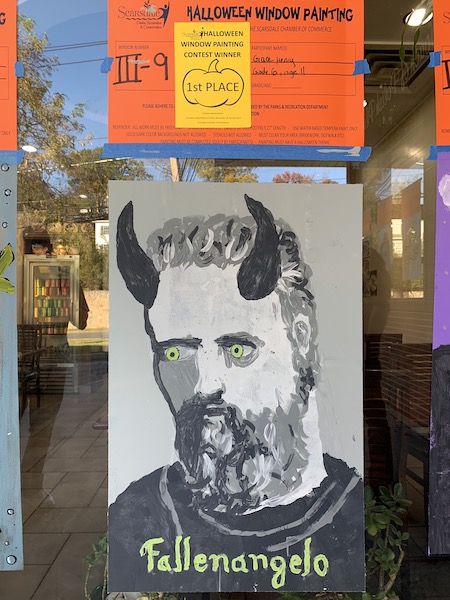 Group 3
1 Grace Henry -Jade Spoon
2 Lilah Lenskis-Kristian- A Touch of Polish
3 Alexandra Israel -Jade Spoon
Most Comical

Julia Barro- Big Top
Honorable Mentions

Blair Rudsenske- Big Top
Sarah Luo- Big Top
Daisy Bennett- Jade Spoon
Juliette Dalton -Jade Spoon
Chenyu Li -A Touch of Polish
Audrey Li -Amore Pizza
Evie Schiff -Amore Pizza
Group 4
Joshua Dong -Scarsdale Spencer Pharmacy
Isabelle Zhu -Great Stuff
Eloise Schiamberg -Parkway Coffee Shop

Most Comical

Danielle Barro- Parkway Coffee Shop
Honorable Mentions

Claire Matula-Osterman- DeCicco's
Jianna Shao -YeoMiji
Isabella Lu -Mixology
Group 5
1 Xinyi Zhao -Village Computer Shop
2 Annika Hanson-Carlson- Rothman's
3 Henry Nova -Rothman's

Most Comical

Flora Zik -Danielle Trissi
Group 6
1 Vivienne Dalton/Devon Simon- SPD Substation
2 Talia Camhi/Jiya Choudary -Nordic Edge
3 Matthew Im/Emery Farnsworth -Bank of America
Most Comical

Maya Zaitchik/Avery Altschuler -Embassy Cleaners

Honorable Mention

Mira Mazer/Clara Dichter -Embassy Cleaners






Group 7
1 Zoe Lemberg/Nicole Sensel -Dunkin' Donuts
2 Lian Guo/Iris Zhu -Dunkin' Donuts
3 Emma Daniel/Annabelle Hasson -Dunkin' Donuts
Most Comical

Molly Singer/Sofia Polak -Pizzarelli's

Honorable Mentions

Natalie Goldstein/Lindsay Goldstein -Dunkin' Donuts
Pietro Lombardi/Charlie Im -Pizzarelli's
Group 8
1 Blakely Sapirstein/Talia Arovas -Value Electronics
2 Rachel Goldberg/Sasha Lubin -La Dentelliere
3 Kaitlyn Shedroff/Tara Bamji -Rudy's Music
Most Comical

Nell Rompala/Lexi Perry -Value Electronics

Honorable Mentions

Lilliana DeRobertis/Ava Rapaport -Zachy's Liquor Store
Eleanor Orad/Delaney Weston -Zachy's Liquor Store
Morgan Greco/Mia Forray -Chase
Julia Kristol/Kate Simpson -Houlihan Lawrence
Gil Reindel/Coby Cukierman -Douglas Elliman Real Estate
Group 9
1 Julia Sobel/Reese Muntner -Wilson & Sons
2 Ava Feldman/Charlotte Aldridge -Pam Robbins
3 Nadine McMahon/Clara Bartalos -BLVD
Most comical

Sarina Mehta/Maya Dhiman -BLVD
Honorable Mentions
Annalise Corey Felicity Bennett -Wilson & Sons
Madeline Cha/Samantha Cha -Wilson & Sons
Jessica Greco/Gabrielle Smajlaj -Wilson & Sons
Group 10
1 Alexandra Simon/Olivia Liu -William Raveis Real Estate
2 Annika Johnson/Gabriella Johnson -William Raveis Real Estate
3 Celia Dibenedetto/Leo Dibenedetto -William Raveis Real Estate


Coverage of the Halloween Window Painting Contest is sponsored by the Randi Culang Team at Compass Realty.