Swim Across America Long Island Sound Celebrates 30 Years
Details

Written by

Joanne Wallenstein

Hits: 1096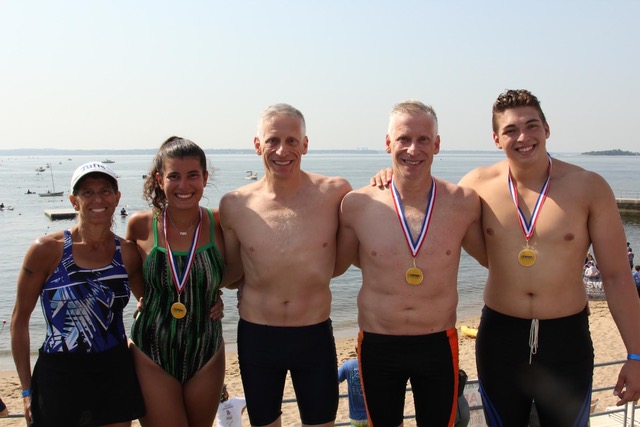 Swim Across America as a national organization was founded 35 years ago in 1987, but one of its earliest annual swims was the Swim Across America Long Island Sound open water swim, based in Larchmont which began in 1992. This year, Swim Across America Long Island Sound is celebrating its 30th anniversary in the New York City area. The core group that started and continues to lead the swim – Frank Webers, Tony Sibio, Jean Fufidio and Josh and Jeremy Glantz – have all had loved ones directly impacted by cancer and are committed to making a difference in the fight against cancer by "making waves."
Swim Across America Long Island Sound is dedicated to the memory of Kathy Webers, who courageously battled brain cancer for over a year. Frank Webers and his wife Kathy had three daughters – April, May and June. The family was heartbroken by the loss of Kathy to cancer at only 42 years old. Her passing led to the start of the Swim Across America Long Island Sound being established with 17 inaugural swimmers swimming in her honor. Sadly, while cancer skipped a generation, June's daughter Jane was diagnosed with leukemia at just six years old. Jane raised money for Swim Across America Long Island Sound by selling lemonade, and in 2019, her Mom June swam in her honor. The family was comforted in knowing that many of the funds raised through Swim Across America Long Island Sound were going directly to Memorial Sloan Kettering, where Jane was treated. Thankfully, Jane, now nine, is a thriving fourth grader free of cancer.
Jeremy and Josh Glantz coached the swim team at Larchmont Yacht Club for four years and the Webers family were always so incredibly kind and supportive of them. Josh and Jeremy were heartbroken when Kathy passed away and wanted to do something in her honor so they decided to bring together a few friends to swim in Long Island Sound in Kathy's memory. It was 1992 and they thought it would be a one-time thing, but Frank Webers had other ideas. As they gathered at the Yacht Club after finishing that first swim, Frank gave them a big hug and said, "Next year we are going to do it again but BIGGER!"
Tony Sibio, chairman of Swim Across America Long Island Sound, has been involved in the organization since its inception in 1992. His son Daniel was diagnosed in 1991 with stage 4 rhabdomyosarcoma, a cancer of soft tissue, connective tissue or bone. His tumor was inoperable and spread to both lungs. Daniel, who was only eight-and-a-half years old at the time, was treated at New York-Presbyterian Morgan Stanley Children's Hospital, which today is one of the beneficiaries Swim Across America Long Island Sound supports. Thanks to an experimental protocol, Daniel has been in remission for 31 years and is happily married with two beautiful daughters.
Jean Fufidio got involved with Swim Across America after her daughters, Andrea, Michele and Maria pushed their mom, a non swimmer, to take swimming lessons so she could participate in Swim Across America Long Island Sound after their father, George was diagnosed with lung cancer in 2001, the same cancer that had taken Jean's father. Deeply affected by their father's illness, Jean and George's daughters, Maria, Michele and Andrea, were determined to make a difference for those with cancer and became involved in Swim Across America Long Island Sound, swimming to raise money for cancer research. Swim Across America Long Island Sound became a family affair with Jean, George, Andrea, Michele and Maria continuing to participate and support something so dear to them. Today Jean is an active Swim Across America Long Island Sound board member, and she continues to swim each year at the New York Athletic Club in Pelham to raise funds. George thankfully survived his cancer diagnosis and is a volunteer in the organization. Jean and George's daughter Andrea, influenced by her direct experiences with loved ones with cancer, is now a registered nurse, helping patients who are undergoing oncologic emergencies at Memorial Sloan Kettering in West Harrison, the same institution that cared for her grandfather and father and one of the beneficiaries of Swim Across America. Andrea's personal family experiences with the devastating effects of cancer have transformed her into a front-line cancer-fighting crusader.

This year, for Swim Across America Long Island Sound's 30th anniversary, the event is celebrating 30 years of making waves to fight cancer and is Swim Across America's largest open water event, having raised $21 million throughout the past 30 years for cancer research and clinical trials. In fact, the Swim Across America Long Island Sound was instrumental in funding some of the most exciting cancer news this year with the news about a clinical trial at Memorial Sloan Kettering which was published in The New England Journal of Medicine and showed a 100 percent success rate in treating patients in a phase 2 clinical trial for advanced rectal cancer with dostarlimab, an immunotherapy treatment produced by GlaxoSmithKline. The clinical trial at Memorial Sloan Kettering was funded by early-stage grant funding from Swim Across America Long Island Sound.
In fact, Swim Across America funding has contributed to four FDA approved life-saving immunotherapy treatments: Yervoy, Opdivo, Tecentriq and Keytruda, and nationwide supports research with more than 60 scientific grants funded each year. There are ten dedicated Swim Across America Labs at major institutions including: Children's Healthcare of Atlanta, John Hopkins Medicine Baltimore, Rush University Medical Center Chicago, Baylor Scott & White Charles A. Sammons Cancer Center at Dallas, Memorial Sloan Kettering Cancer Center New York, Nantucket Cottage Hospital, Palliative and Supportive Care of Nantucket, Adolescent and Young Adult (AYA) Lounge at the Moffitt Cancer Center in Tampa, UCSF Benioff Children's Hospital Oakland and San Francisco and the Seattle Cancer Care Alliance.
Swim Across America is a national nonprofit organization that holds 24 open water swims across the country, from Boston to under the Golden Gate Bridge. The organization has an interesting history as it started with a sunken boat in Long Island Sound at its first-ever open water swim and has turned its passion for swimming and fighting cancer into $100 million that supports crucial cancer research throughout the country.
In honor of Swim Across America's 35th anniversary, the organization is showcasing "35 Stories of Impact" throughout its decades with a special website at swimacrossamerica.org/35. These five founders of Swim Across America Long Island Sound are some of the 35 Stories of Impact profiled.
To learn more about Swim Across America Long Island Sound Open Water Swim or to register to swim, volunteer or donate for the July 30th open water swim, visit swimacrossamerica.org/longislandsound.
Storms Flood Scarsdale, Taking Out Power and Metro North
Details

Written by

Joanne Wallenstein

Hits: 934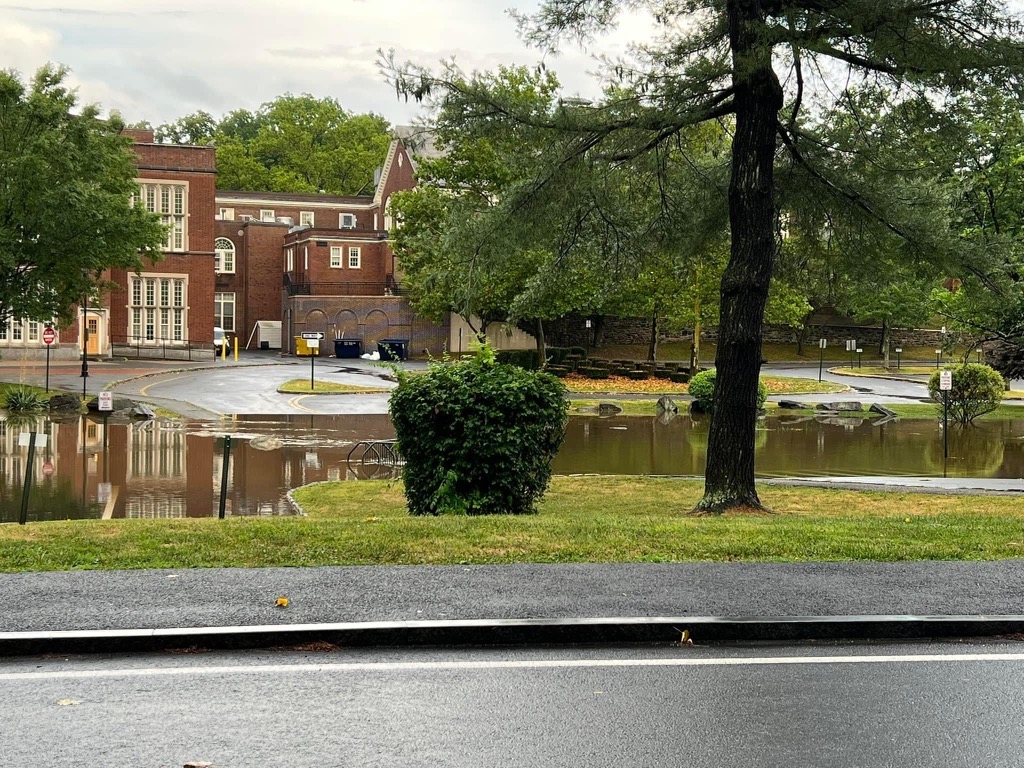 A strong series of thunderstorms that hit our area on Monday afternoon July 18. 2022 caused power outages and flooding and took out the Harlem Line on Metro North.
Here's the report:
Police received a report of a possible lightening strike on Reimer Road at 3:03 pm.
Fox Meadow Road flooded near Paddington Road and was taped off. There was flooding on Brite Avenue between Whig and Olmsted Roads.
41 Fox Meadow residents lost power.
The Brewster Road entrance to Scarsdale High School was closed due to flooding.
A tree fell at the intersection of Griffen Avenue and Grand Park Avenue.
A car drove into a puddle on Wayside Lane and stalled at 4:28 pm.
Fireworks Spectacular at the Scarsdale Pool Thursday June 30
Details

Written by

Joanne Wallenstein

Hits: 2183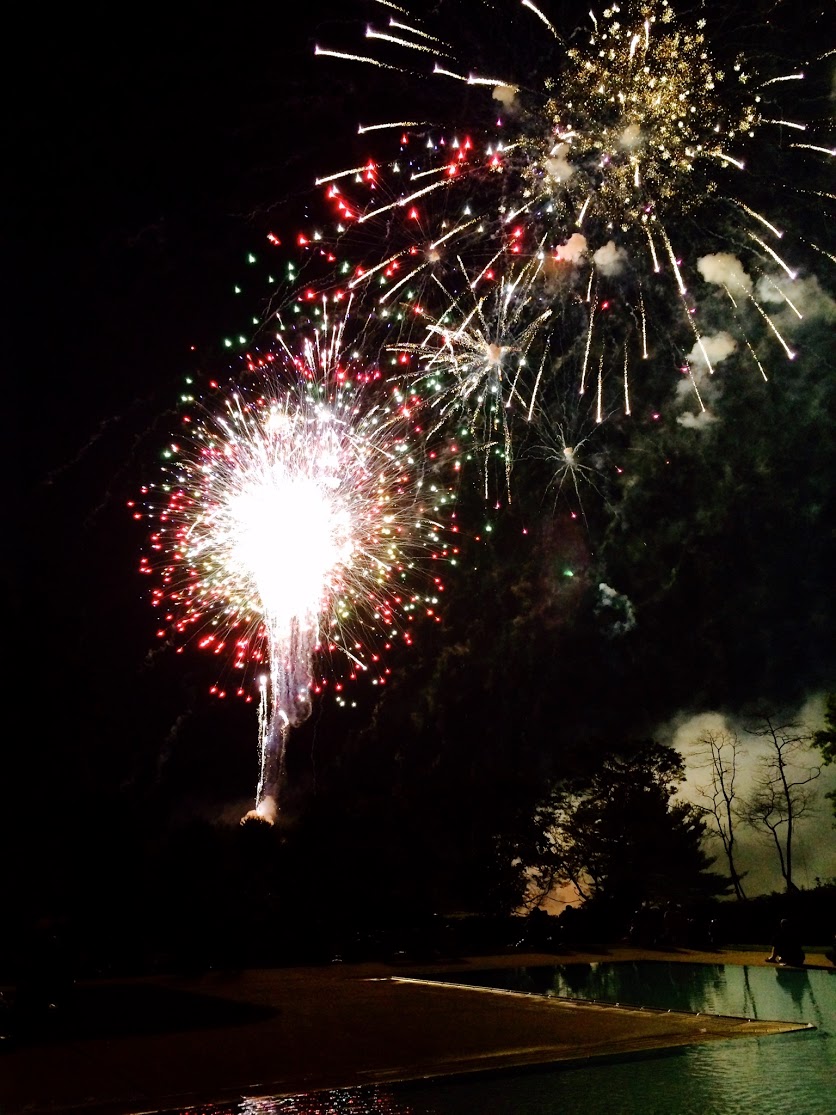 After a 2 year pause due to COVID-19, the Village of Scarsdale's Annual Fireworks Spectacular, open to the public, will be presented at the Scarsdale Pool on Thursday, June 30th, at 9:15 PM. Returning to the spectacular will be a performance by the Westchester Band at 7:30PM. Please note that a $5.00 fee will be charged to all non-pool members entering the pool starting at 5PM in conjunction with the scheduled fireworks. Beginning at 8PM ALL individuals entering the Pool Complex will be charged $5.00. Picnicking is allowed on the grounds, but alcoholic beverages and smoking are not permitted. Pool members wishing to avoid paying the $5 fee are advised to enter the pool facility before 8PM.
Letters to the Editors: Anti-Lights Neighbors Make Many Errors In Fields Analysis
Details

Written by

Joanne Wallenstein

Hits: 1811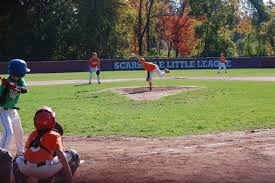 (This letter was written by Scarsdale Little League Board of Directors)

Dear Editor,
We are writing in response to the recent Letter to the Editor ("There is No Shortage of Baseball Fields in Scarsdale," July 9, 2022), written by representatives of a group of Scarsdale residents who oppose the proposed Crossway lights project that is currently being considered by the Village Trustees.
Unfortunately, the letter is riddled with inaccuracies regarding actual field usage in our town as well as false accusations directed at Scarsdale Little League.
The Little League, an independent youth sports organization serving close to 800 Scarsdale children ages 4 to 15, has committed to donating the necessary funds to the Village of Scarsdale to cover the full cost of installation of lights to illuminate Crossway 1 Field, which will allow for more playable fields in town.
The community members who oppose the project have argued that lights at Crossway are an unnecessary improvement to our fields and that field availability is plentiful in Scarsdale. Nothing could be further from the truth. The rudimentary analysis of field usage outlined in the Letter to the Editor was not only inaccurate and incomplete, but also misleading.
Our fields are overcrowded and at close to max capacity during daylight hours in both the spring and fall. With hundreds of players across our Little League and competitive Travel baseball programs, we have teams utilizing every available baseball field in town (including the school fields, Hyatt, Crossway, Supply and Winston) for practices and games on any given day.
Successfully assigning fields for our 70+ baseball teams — in coordination with rec softball, travel softball, football, soccer and a variety of adult teams — requires nothing short of a miracle. Scheduling involves a complex matrix of considerations and factors, not the least of which includes player and coach availability for multiple practices and games, assigning appropriate fields for appropriate ages (i.e., not all fields are playable for every age), working around other non-Little League field requests (of which there are many) and the inevitable rainouts and rescheduled games. This tricky scheduling dance happens every spring and fall — and every spring and fall, without fail, there is always a shortage of fields. It is a significant challenge that we, as volunteers, struggle to manage every season, as do countless volunteers at all of our peer youth sports organizations.
In short, there should be no debate over whether there are enough fields in Scarsdale. There are not.
That is not an opinion, it is a fact, and one that Larry Medvinksy, Chairman of the Advisory Council on Parks & Recreation, acknowledged when he endorsed the project, stating "The dramatic expansion of youth sports programs over the past ten to fifteen years has made scheduling games and practices increasingly challenging. Field availability issues affect children playing for Independent Sports Organizations (ISOs), such as Little League, and those participating in Scarsdale Recreation programs. The Parks Department is sensitive to these issues and has tried to accommodate teams by opening fields at times when conditions are not optimal, which damages the fields for future play. They have also squeezed additional practices and games onto the fields that have better drainage. However, the additional stress placed on those fields also damages them and renders them virtually un-playable later in the season.
The availability of lights at Crossway Field 1 would alleviate at least some of these issues. New availabilities would open up for scheduling or re-scheduling games or practices lost due to weather conditions due to the availability of the lights. Finally, by providing occasional practices for the ISOs at Crossway Field 1, there would be less competition for fields generally, and therefore there would be less stress placed on the Village fields. We would also point out that the usage plan's schedule for evening games would present wonderful opportunities for the community to come together and support our student-athletes."
The lights proposal we have put forward is thoughtful, measured and sensitive to the needs of our fellow neighbors and community members. We believe that lights on Crossway 1 will add a great deal of flexibility for scheduling, increase field availability across multiple age groups and significantly improve the overall experience of players, families and spectators. The project has been well received by PRC which has formally recommended that the project proceed.
The group of neighbors opposed to the proposed lights project has been vocal and steadfast in their refusal to compromise. A small group of community members should not be able to hinder progress in Scarsdale and halt much-needed — and broadly desired — improvements to our Village facilities.
We implore the Village Trustees to examine all of the facts and to consider the realities of the current field shortages and how that impacts our community's youth sports programs and the broader community in support of this project.
- Scarsdale Little League Board of Directors
This letter to the editor was written by Matt Conlan

Last weekend, Scarsdale10583 published a letter in opposition to Scarsdale Little League (SLL) installing lights on Crossway 1 (the baseball field closest to the pool). To paraphrase, the letter argued: "SLL's claim that the lights will help alleviate field shortages is untrue because SLL does not currently use all their allocated field space." I scheduled all the games and practices for SLL during my tenure on the SLL Board a decade ago, and I quickly deconstructed this poor analysis and misleading argument to be equivalent to saying, "There is never a shortage of parking at the Scarsdale Pool because the lot is empty during the winter."

As I read their full analysis, it became obvious that the opponents' Field Use Analysis contained substantial systematic errors such as over-counting fields that were available to SLL and only counting the game usages listed on the SLL website, failing to capture each team's weekly practices, which nearly doubles SLL's total weekly field usage. I assume this massive data error was inadvertent rather than deliberate misinformation. Similarly, the analysis of Youth Soccer field usage only incorporated SYSC's practices, missing the fact that their teams dominate Scarsdale's field usage every Sunday for games. All in all, it was shoddy data collection and analysis by people clearly not understanding SLL's total scheduling needs nor the field allocation matrix the SPRC works so hard to construct.

Regarding game schedules, Scarsdale residents should know that field availability is not SLL's only constraint when scheduling games. The most critical scheduling constraint is that SLL has a duty to manage pitch counts for their pitchers to avoid arm injuries, so games are scheduled with a few days of rest in between. Secondarily, SLL aims to provide a predictable schedule that meshes with the schedules of other popular sports like soccer and lacrosse, allowing kids to try/play more than one sport if they'd like. Also, it's important to realize that SLL's coaches are parent volunteers, not professional coaches, so scheduling of games and practices needs to be considerate of their work and family schedules.

With Saturday as the obvious anchor of SLL's weekly game schedule, and the need to give pitchers a rest between games, mid-week games for kid-pitch leagues are bundled on Tuesday and Wednesday nights. The argument that "few or no games are scheduled on Thursday, Friday, and Sunday, so there is no field shortage" is a red herring borne of ignorance. Although players are not available to pitch games on those days, SLL's available fields are used for teams' weekly practices on days the teams are not playing games.

I am no longer a coach or board member of SLL as my son and daughters (yes, they played SLL, too) have long ago aged out of the program, but I remain spiritually affiliated with SLL in the purpose to pass along the love of baseball to younger generations. Personally, I think playing under the lights would be a fun, exciting, and memorable experience for SLL players. Given the community's widespread enthusiasm and financial support for the installation of lights on Butler Field a couple of years ago, I suspect an overwhelming majority of Scarsdalians also endorse adding lights to Crossway 1 to improve the SLL experience for current and future children.

While disagreeing with their priorities, I respect that some local neighbors fear that the players' enhanced fun would come at the expense of their evening quiet. That said, I felt it necessary to set the record straight that their letter demonstrates the opponents' complete misunderstanding of SLL's scheduling challenges and field use patterns. Their letter earns a big Bronx Cheer from me.

Public Service Message: The proper name of the field complex, and the road it is named after, is "Crossway," not "Crossways." Previously called "The Crossway," the singularity of the name is historically significant as it was the only way to cross the undeveloped fields between Weaver Street and Mamaroneck Road. The all-too-common reference to the road/field as "Crossways" is analogous to referring to the GWB as the George Washington Bridges. Please pass the word.
After an Accident, Mother Asks for the Installation of a Traffic Light in Scarsdale
Details

Written by

Joanne Wallenstein

Hits: 3378
Miles, clutching his helmet, after his bicycle was hit by a car on Post Road.After an 11 year-old was hit by a car on the Post Road on May 27, 2022, his mother is asking for the installation of a traffic light at the intersection of Post and Edgewood Roads. See below for letters to the Editor and to Assemblymember Amy Paulin from Christine Weston of Taunton Road in Scarsdale.
Dear Editor,
I am writing to correct an item in today's police blotter. On Friday, May 27th my 11-year-old son, Miles Weston was hit by a car on Post Road. The blotter incorrectly reads that he was "nearly hit" when, in fact, his bicycle was hit, and his foot grazed the tire of the car. There was some initial miscommunication with the police and the village on this fact, so unfortunately the blotter picked up the wrong information. I have also sent an email to the mayor, village manager, and trustees, clarifying the error. Following is an email that I sent to Amy Paulin's office, as I am working to put pressure on New York State to install a proper traffic light at that very dangerous intersection.
I would be willing to discuss this issue further, as I have received a lot of support from community members after posting about the incident on Facebook. If anything, I would like to submit a proper letter to the editor to be printed to clarify the details of the accident.
Sincerely,
Christine Weston
June 2, 2022
Dear Ms. Paulin,
On Friday, May 27th, 2022, around 4:45pm, my 11-year-old son, Miles Weston, was hit by a car on Post Road in Scarsdale at the corner of Edgewood Road. He was walking his bike, on his way home from playing with friends at Edgewood, our local elementary school. While attempting to cross the busy Post Road using the pedestrian-controlled crosswalk signal, one car did not stop, and struck the front tire of his bike, and his foot grazed one of her tires.
I implore you to help me put pressure on the New York State Department of Transportation to install a traffic light at that intersection, the corner of White Plains Post and Edgewood Roads. In addition to the elementary school one block east of the corner, many cross there to access the cut-through to Windsor Lane as a short-cut to the village and train station. This crosswalk is used by children, caregivers, and commuters multiple times a day, and I have heard from many who have experienced near-miss accidents. The crossing guard that works there during school hours fears for her safety every day. Police officers I have spoken with also report being ignored when attempting to direct traffic when the crossing guard is not on duty. This is clearly a genuine issue that needs to be addressed.
Thankfully, my son was not physically hurt, though he has had nightmares and flashbacks of the event. The woman who struck him did stop, but was not apologetic at first, telling him that he "came out of nowhere." I am absolutely positive that she is beside herself for what happened, and that it was a complete accident; however, that statement is proof positive that it is impossible for motorists to see pedestrians.
The witnesses at the accident told me that Miles has the "reflexes of a ninja." If he had not pulled his bike back as fast as he did, I shudder to think of what would have happened. I cannot help but think of what could happen if another child or adult is not so quick to react.
I have attached a copy of the police accident report (#22-15679) as well as the statement I gave to the police. I am hopeful that these documents will help move the case along.
Thank you so much for your attention to this matter.
Sincerely,
Christine Weston
26 Taunton Road