Kids Learn Fire Prevention Tips at Fire Fair
Details

Written by

Joanne Wallenstein

Hits: 553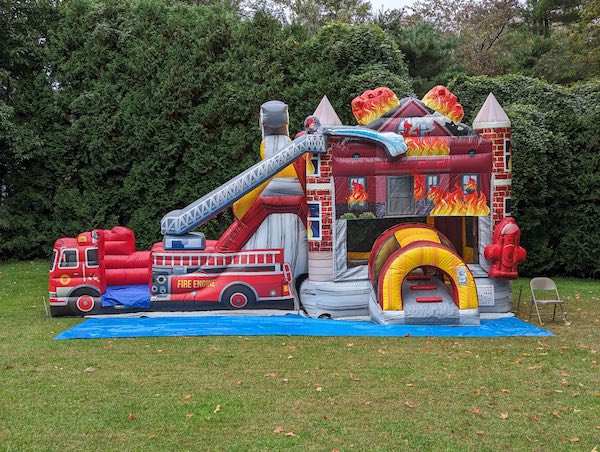 The Scarsdale Fire Department host edits annual Fire Prevention Fair at Fire Station 3, 56 Crossway, on Saturday, October 14, from 10:00 AM to 2:00 PM.
Scarsdale Fire Chief Chris Mytych said, "The event was the culmination of a week filled with fire prevention education visits to each of our nursery and elementary schools. We were fortunate that the weather didn't significantly impact attendance, but we look forward to brighter skies next year."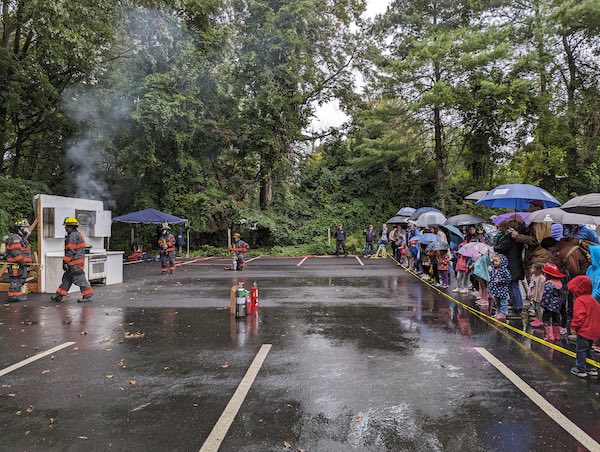 Kids learned from Llve fire demonstrations that highlighted the dangers of unattended cooking and improper fire extinguishment.
There will be antique and modern fire apparatus on display, interactive lessons from the fire safety trailer, bounce houses, refreshments, and a firefighter read-aloud.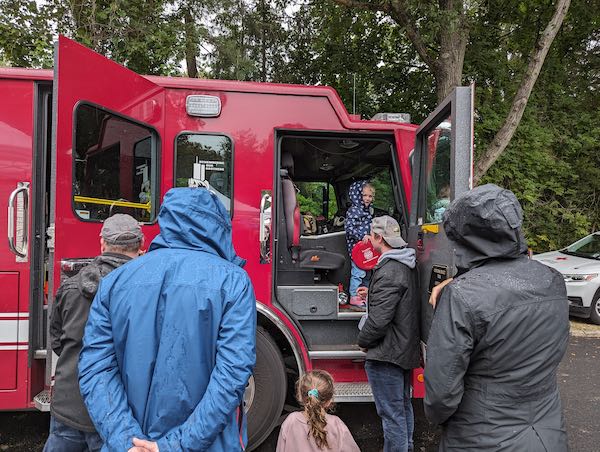 The American Red Cross offered information on free smoke alarm installations, emergency preparedness, and hands-only CPR.
The Fire Prevention Fair is a great opportunity to meet career and volunteer firefighters, who are eager to share key messages from this year's campaign, Cooking safety starts with YOU: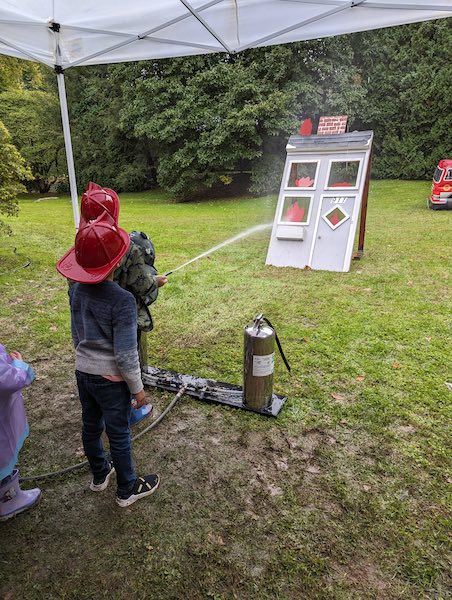 • Watch what you heat. Always keep a close eye on what you are cooking. Set a timer to remind you that you are cooking.
• Turn pot handles toward the back of the stove. Always keep a lid nearby when cooking. If a small grease fire starts, slide the lid over the pan and turn off the burner.
• Have a "kid- and pet-free zone" of at least 3 feet around the stove or grill and anywhere else hot food or drink is prepared or carried.
For more information, please contact the Scarsdale Fire Department at (914) 722-1215.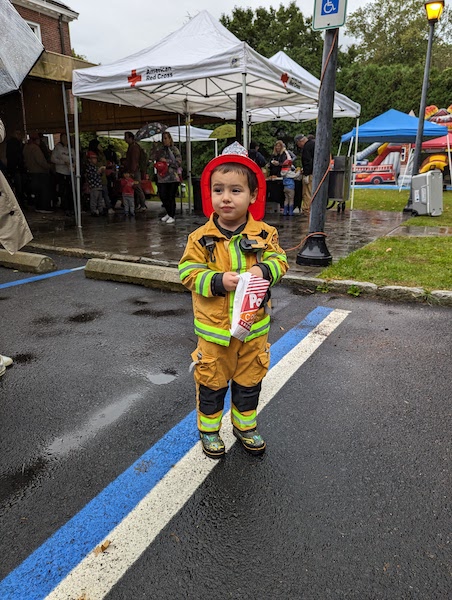 A Moving Ceremony in Support of Israel
Details

Written by

Joanne Wallenstein

Hits: 1385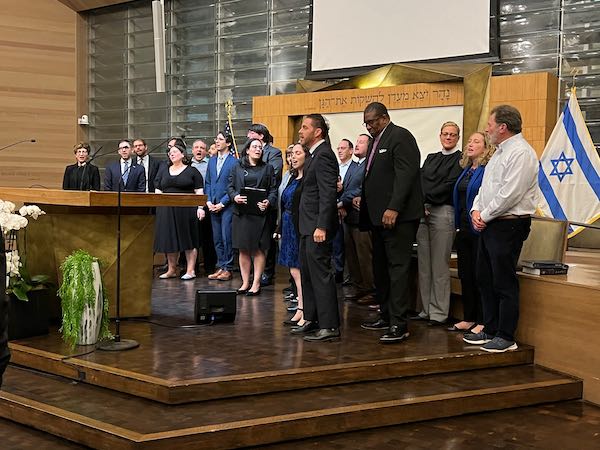 Though most of us feel powerless in light of the horrific events that occurred in Israel last weekend, local clergy brought the community together to show us that we are not alone in our grief and to suggest how we can help to support Israel.
On Wednesday night October 11, ten local synagogues, representatives from Jewish organizations, Christian clergymen and political leaders joined together for a Vigil for Israel at Westchester Reform Temple. The event drew an overflow crowd to the synagogue. Traffic was backed up for miles on Mamaroneck Road and every seat inside the temple was filled. The audience included Scarsdale's school superintendents and representatives of the Board of Education along with Scarsdale's Mayor and several trustees.
Participants included:
AJC
Bet Am Shalom
Community Synagogue of Rye
Congregation Kol Ami
Larchmont Temple
Scarsdale Synagogue Temples Tremont and Emanu-El
Shaarei Tikvah
Temple Beth El of Northern Westchester
Temple B'nai Yisrael
Temple Israel of New Rochelle
Westchester Reform Temple
Woodlands Community Temple
Rabbi Jonathan Blake of Westchester Reform Temple opened the ceremony saying "We are united in our broken hearts …the hearts of people who love and care about humanity, care about Israel, who care about Jewish people, who care about decency….."
Scarsdale Mayor Justin Arest said, "Scarsdale is home to many residents with strong connections to this region, and we extend our prayers and support to them. In times of tragedy, we have always come together to lean on one another. That is who we are and who we must continue to be. We are also a community of compassion, tolerance, and respect."
State Senator Shelley Mayer said, "We have an obligation as Americans to do the hard thing, which is to stand up for Israel, regardless of our faith."
Shachar Liran-Hanan, the senior emissary from the Jewish Agency for Israel to the Westchester Jewish community shared her personal story of fear and loss. A native of Israel she told stories of terrorists going door to door slaughtering residents and burning homes with families locked inside. She said that her brother, who has a wife and three children has been called to duty. And said, "In Israel, every mother who has a son knows that one day she will have to send him to fight." She wondered how people can live if they don't feel safe in their own homes and thanked the U.S. community for supporting Israel.
Zioness Amanda Berman gave a rousing call to action, encouraging the audience to "show your solidarity … you have a role to play." To those who question Zionism she says, "The response to anti-Zionism is more Zionism," and she told the audience that those outside of Israel are needed to support Israel all over the world.
County Executive George Latimer said, "I stand with you," and spoke of the right to religious freedom.
Rabbi Lester Bronstein of Bet Am Shalom read a prayer and said, "Let us send rescue and redemption to those held captive by the enemy," and prayed to "implant understanding in the heart of the enemy."
Former Congressman Mondaire Jones said he was "devastated by the heinous attacks," and said "As a Black American I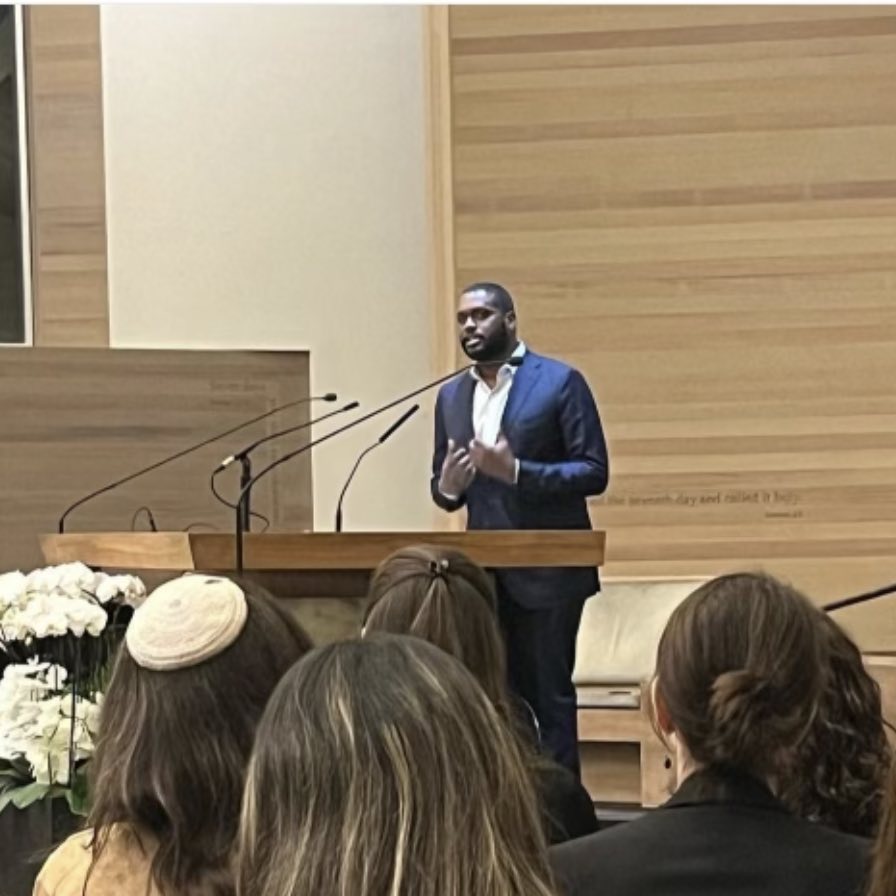 stand in solidarity with the Jewish people here and in Israel." He remembered a 2021 trip to Israel calling it the most "educational trip of his life." He said, "America has a role to play in supporting Israel and called for the "end of chaos in Congress."
Reverend Kelly Rogers of Scarsdale Congregational Church said, "You are not alone." She said, the Jewish people "are continually in a state of remembrance," and said, "the commitment to Tikun Olam is all our work. Let us go in peace and make peace."
The evening was punctuated by moving musical performances by nine cantors from local synagogues. At the conclusion of the service he audience joined to sing:
Oseh shalom bimromav
hu ya'she shalom alienu,
Ve'al kol Yisrael,
Ve'imru, imru Amen,
Which means:
One thing above all: That for Israel, for the Jewish people, and for the world, that there should be peace.
Two Food Openings in Scarsdale Village
Details

Written by

Joanne Wallenstein

Hits: 4053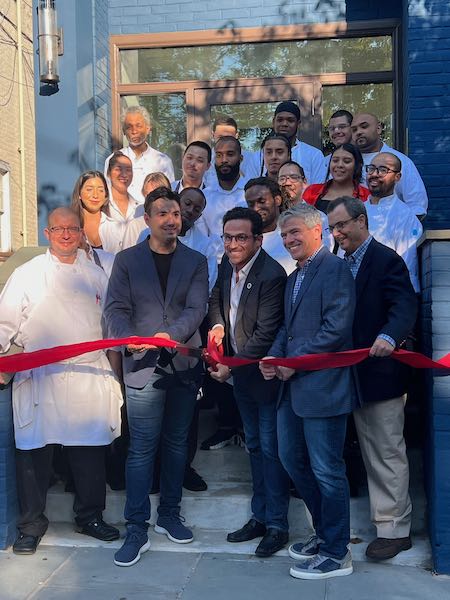 Scarsdale is now home to a new French bistro and a gelato shop.
On September 13, the Village celebrated the opening of Micheline at 878 Scarsdale Avenue in the former site of Metro Diner. The fully renovated restaurant seats 70 indoors and 40 outdoors and is now open for dinner on Wednesday to Sunday nights. You can make your reservation on RESY.
On Wednesday, the Mayor, trustees and representatives from the Scarsdale Business Alliance came out to join managing partner Jonathan Aubrey, chef Joshua Capone and the entire staff for a ribbon cutting ceremony. Aubrey, a Scarsdale resident with his young family in tow, was excited to welcome the community to sample the new menu.
Also open next to Scarsdale train station is a new gelato shop. We stopped in an were offered tastes of tempting flavors like Hazelnut Cremino, Tirarmisu and Whiskey Cream and Pecans. Stop by for a cup or a cone and let us know what flavor you recommend.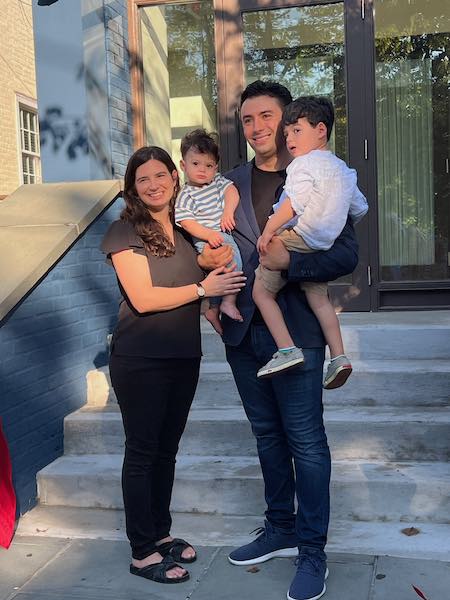 Jonathan Aubrey and Family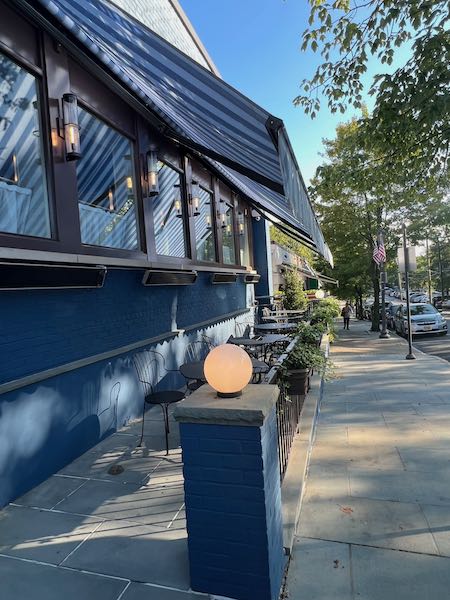 Micheline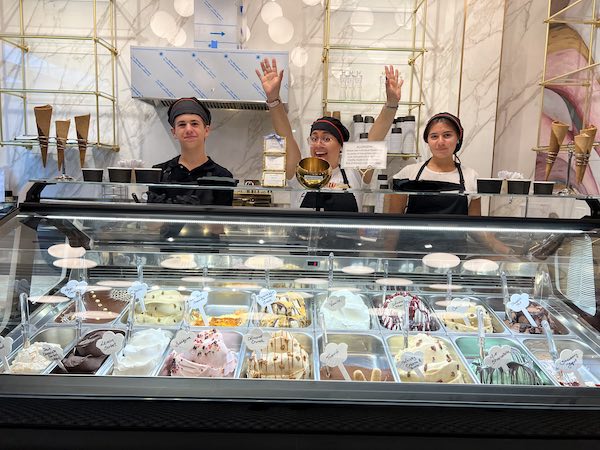 Gelato!
Former Village Trustee Urges Historic Preservation Committee to Save Our Community
Details

Written by

Joanne Wallenstein

Hits: 2697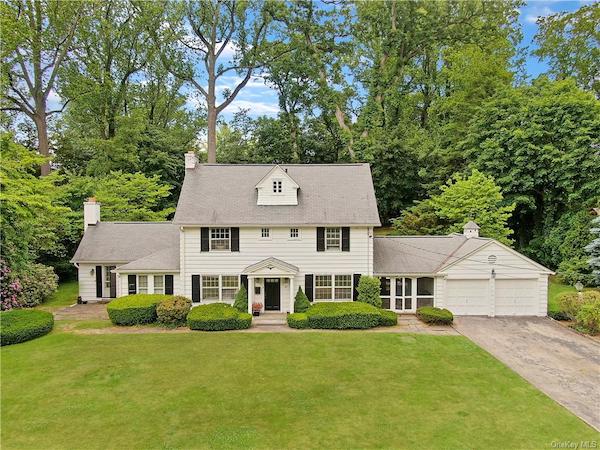 It was a late night at Village Hall on Tuesday September 19 when the Committee for Historic Preservation assembled to consider applications to tear down ten properties, an unusually long agenda. The tear down application is the first step for developers who seek to replace original Scarsdale homes with grander ones, and often take down one home, subdivide the property and build two homes to the outer property limits.
One home on the list, sited in a part of Edgewood called "The Woods," attracted a group of neighbors and a former Village Trustee. They voiced their opposition to the demolition of the much admired Colonial home built in 1927 at 27 Woods Lane, formerly owned by John and Mary Jane Clerkin.
Speaking for that application to tear it down, a woman named Yeren Sun said she was representing the buyer. She appeared to have little knowledge of the neighborhood or its history. She claimed, "The house is simple. It is not historical. We think it is a teardown house. It will be better for the neighborhood. The lot will be subdivided to make two homes to blend into this zoning."
She did not appear to be aware of the area or its history. In his 2012 Cultural Resources Survey Report, Architectural Historian Andrew Dolkart singled out Woods Lane as a study area for preservation.
He says, "The Woods is a small subdivision along the New Rochelle border in the Drake Edgewood neighborhood of Scarsdale. The development runs along Woods Lane, Southwoods Lane and Eastwoods Lane. The project appears to have been planned in the late 1920's since several houses were erected in the area late in that decade, but the plan was revised in 1920. Most houses in The Woods were erected during the Depression years of the 1920's. The study area consist of a cohesive mis of Tudor Revival and Colonial Revival houses, designed by a variety of architects. Both Franklin Hammond and Lorillard Wise, who were active elsewhere in Scarsdale, designed Tudor Revival houses early in the history of the development in The Woods – Hammond at 8 Woods Lane in 1928 and Wise at 2 Woods Lane in 1920. Colonial Revival is the dominant theme in the area, with facades of stone and wood….. Little information has come to light about the mechanics of development in The Woods. More research might discover additional information about the developer who created this fine subdivision at the edge of Scarsdale."
A group of neighbors and former Village Trustee Jonathan Lewis recognized the special nature of the house and the character of the neighborhood.
Jim Detmer of 29 Woods Lane said he has lived next door to the property for 29 years. He said, "The house is a beautiful example of a wood frame colonial on a larger lot. They will jam two houses there – which will have a negative effect on the neighborhood and the community. The addition on the home was done by a historic architect Cherry and Matz." He provided a list of historic properties they had designed including the Redeemer Lutheran Church in Scarsdale and the Hebrew Tabernacle of Washington Heights and the First Reformed Church in Piermont NY which is on the National Register. He said, "For those two reason I would ask that the committee move toward preservation."
Maura Lee of 19 Woods Lane agreed. She said, "This is our neighborhood. That is a beautiful home. It's the one home that people comment on –--- a beautiful farmhouse and a much admired Colonial. It will alter our community and our streets. We have bigger lots and lots of trees. Putting two identical houses next to each other will alter our neighborhood. Tearing down this beautiful home will change our community."
Former Trustee Jonathan Lewis, who lives at 56 Woods Lane urged the committee members to save the house. He advised that if the current laws did not give the committee the tools they need to preserve neighborhoods, they should speak to the trustees about amending the law.
Discussing where Scarsdale now finds itself, he said the following which drew a round of applause from many in the room.
Lewis said: "First, let me begin by thanking you all for your service on the CHP. I appreciate the time commitment you have made and the dedication to our community that it represents.
27 Woods Lane is a beautiful home. It's elegance contributes to the grace and beauty that make walking along the winding road that defines Woods Lane so special.
We have a great neighborhood for walking and for many of our neighbors a stroll along Woods Lane is a highlight for its beauty, the lovely tree canopy, the distinguished architecture that characterizes the street, and the historic consistency of its homes. The homes may be different, but they are of a specific time and place. Woods Lane is a great representation of the attention to quality, and architectural detail, that characterized the development of Scarsdale as a great suburb after WW1. While there has been some development on Woods Lane, it has been very modest. Tearing down this house and building 2 homes, in my view, will severely degrade the qualities that make Woods Lane historic and special. The character of the neighborhood will be irreparably harmed, historic vistas will be destroyed
As you consider the application for to demolish this house, and the other homes on your list I hope you give consideration to the great challenges before you:
We are witnessing an unprecedented transformation of our community by developers who while seeking to make a profit, a fair objective given their business, are at the same time making our community and its 100 year old infrastructure less sustainable and more costly to maintain. Developers will have their profit in hand, while we raise our taxes to deal with the rising costs of climate change.
Development exacerbates the loss of our tree canopy and increases water runoff as less permeable surfaces replace lawns. Development generates greater volumes of physical waste being transported by our sanitation department and greater volumes of liquid waste transported by our sewer system.
If you find the current laws do not empower you to preserve our community, I encourage to speak out directly to our Village Board in public comment period. As a former trustee, I am particularly mindful that such an action would be unusual but we are living in unusual times.
My own view, after serving, is local government with its current level of staffing and reliance on volunteers like us cannot keep up with well-financed developers. I would encourage you and our Village Board of Trustees to review the pace of change, hire the best legal minds available, and enact a code that is moden, focused on neighborhood character including nature (which is an important part of our historic legacy) and save our community. Our village has among the highest level of cash reserves in decades. The money to support your work is available."
The committee did not respond to Lewis' message to address the inadequacies in the law but did vote to adjourn that application to the next meeting while they gathered more information about renovations to the house and asked for an opinion from historian Andrew Dolkart.
Discussing the additional homes on the list, the same developers and architects had submitted multiple applications and were nonchalant about their reasons for tearing down several homes and even entire streets.
As justifications for one demolition, an architect said, "It's not an exciting house and we want to tear it down." Commenting on a house on Rock Creek Lane, the developer said, "We have built six or seven on this street," meaning we are already well into replacing the entire subdivision.
In that vein the committee quickly approved applications to demolish:
85 Spier Road
16 Lebanon Road
239 Rock Creek Lane
75 Brown Road
18 Lincoln Road
41 Wildwood Road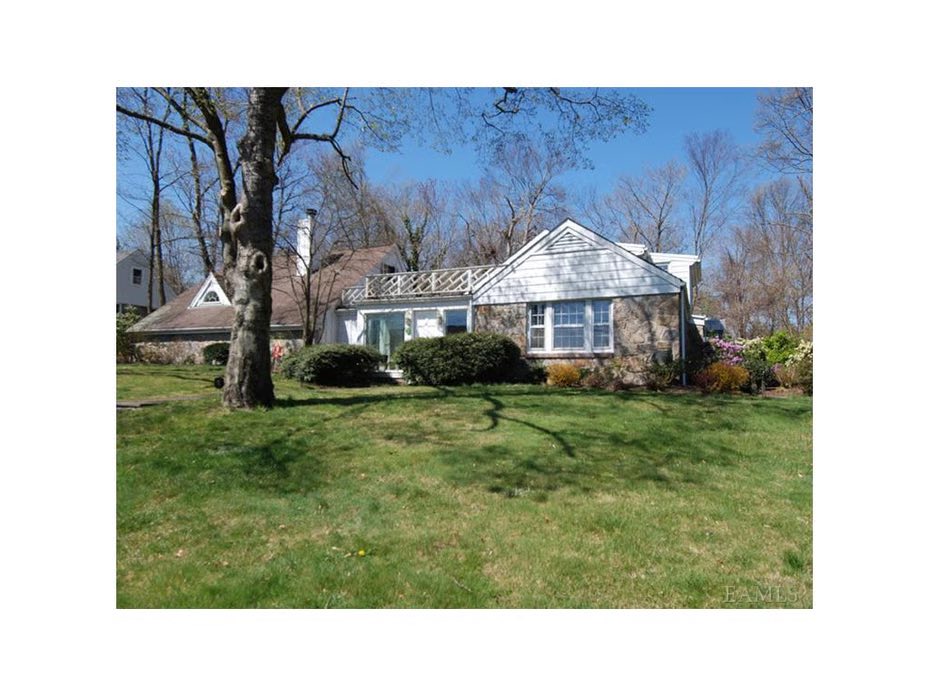 The committee voted to preserve the stone from 41 Wildwood Road
The committee came up with a new twist on preserving a remnant of a home at 41 Wildwood Road that is clad in natural stone. While approving the demolition of the home the committee drafted provisions to require developer Eilon Amidor to reuse the original stone in the construction of the new house.
A Carriage House at 6 Cooper Road, formerly 2 Cooper Road
Architect Bana Choura presented an application for developer Bobby Ben Simon to take down a carriage house/garage that formerly belonged to the mansion at 2 Cooper Road. The history of the house and the developer's plans have been a long and twisitng tale. The property was purchased by Bobby Ben Simon in 2019 who first applied to subdivide the property into three lots and build two additional homes on the property. In 2021 he claimed he was unable to sell the main house and applied to and take it down. Though he got approval to demolish the home in May 2021 the main house was subsequently sold for $3,000,000 was subsequently sold for $3,000,000.
The main house has now been renovated and is on the market again with a new address, 11 Murray Hill Road.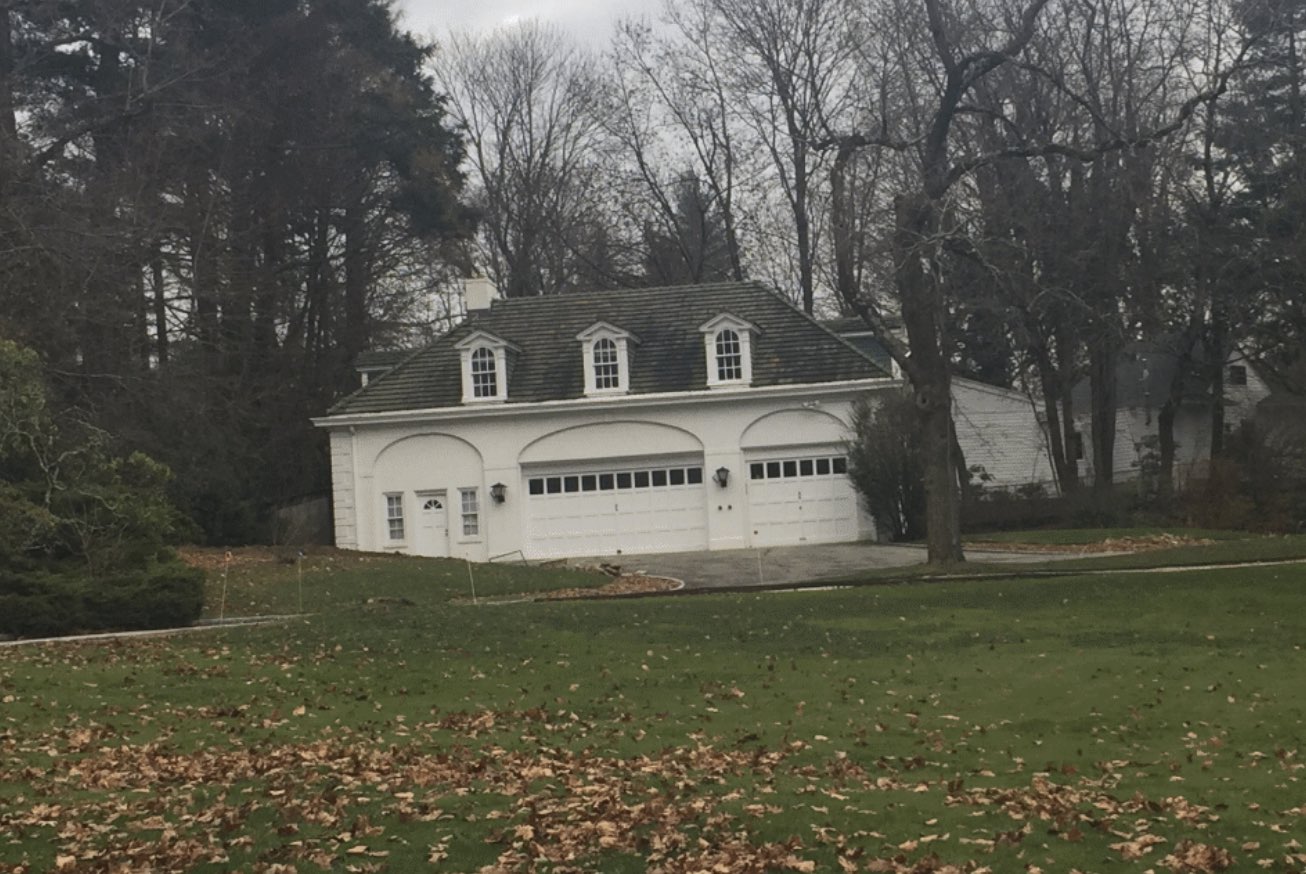 A Garage/Carriage House on Cooper RoadThough the demolition of the garage was approved at the January 29, 2019 meeting of the Committee, the developer waited too long to demolish it and had to re-apply. Village code says, "Any certificate or permit to demolish a structure issued pursuant to this chapter shall expire 12 months from the date of issuance if the work authorized thereby is not commenced by the end of such twelve-month period. Any such certificate or permit shall expire."

Committee members questioned whether this was more than a garage – and included bedrooms and a kitchen for the staff of the home. They also felt that more research was needed on the history of the structure and moved to adjourn the decision until the next meeting. Chair Adam Lindenbaum explained, "Some of us are new on the committee. There is a lot of history to consider."
69 Greendale Road
There was more discussion about an 1,840 square foot Tudor style home at 69 Greendale Road. Built in 1925 by builder Vivian Green, the home was part of the early development of Scarsdale. The committee acknowledged that Green was a prolific builder who incorporated the name "Green" into all his streets and buildings including Greendale Road. However the committee did not feel that the home warranted preservation and voted unanimously to approve the application.
12 Burgess Road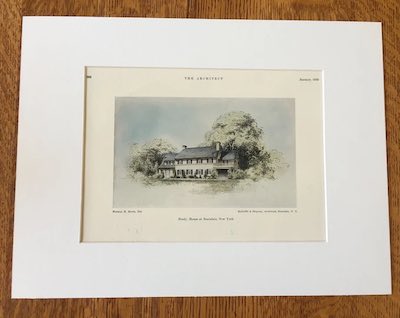 A rendering of a Scarsdale home designed by architect Robert D. Radliffe
The committee also agreed to take down a 4,900 square foot Colonial home built in 1925 on one acre at 12 Burgess Road. For this one, the architect Robert D. Radcliffe of Radcliffe and Shipway was known as he also designed 24 Tompkins Road and 47 Brewster Road, both called out in Dolkart's survey. The work of a noted architect, or master, is one criteria for preservation, but the committee dismissed this point. Take a look at this vintage drawing of Radcliffe's work in Scarsdale here:
Radcliffe's partner, Verna Cook Salomonsky Shipway, was a pioneering woman in architecture and designed several notable homes in Scarsdale. Read more about her here.


Welcome Funky Monkey to Scarsdale
Details

Written by

Joanne Wallenstein

Hits: 1473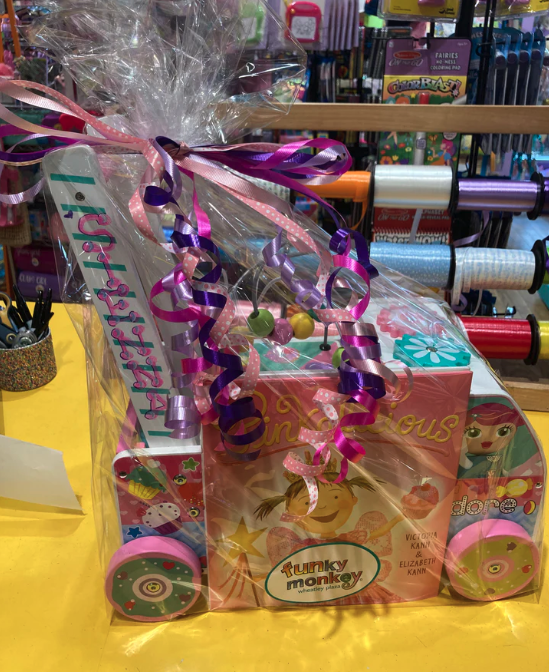 In an age when merchants are abandoning storefronts for websites, it's nice to see someone buck the trends. Jared Greenman, the fourth generation in a long line of toy sellers, has opened his newest store, Funky Monkey in the Golden Horseshoe Shopping Center in Scarsdale.
Greenman's father, Stan Greenman, was the creator and founder of the beloved national chain of toy stores Noodle Kidoodle. His great uncle, Nat Greenman, was one of the first inductees into the Toy Industry Hall of Fame.
The Scarsdale store is the third Funky Monkey store, following successful ventures in Greenvale in Long Island and on Greenwich Avenue in Greenwich. We stopped by to visit and were impressed with the ample merchandise, the appealing design and the welcoming atmosphere for adults and kids too.
Greenman explained, "The store is floor-to-ceiling toys — trendy toys, plus the classics. We have everything kids want. We shop all over the country for the perfect gifts for kids. Plus, we will help you pick out the right gift for any age, and we'll wrap it in funky, fun gift-wrap for free. We do party goodie bags, too. We're kid and parent-friendly, here to help in every way."
We asked Greenman about the move to Scarsdale and here is what he shared:
How has the reception been so far to the new store in the Golden Horseshoe?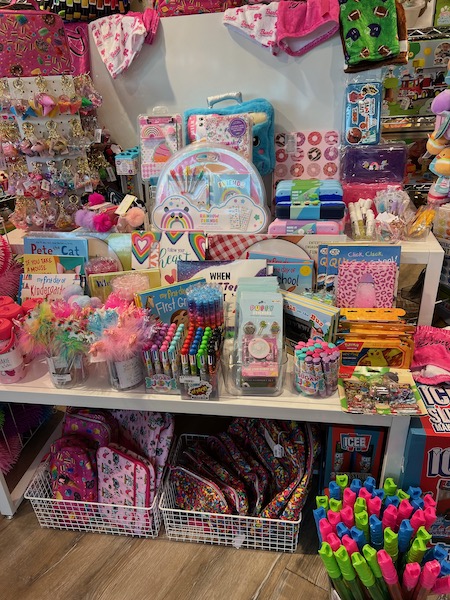 It's been amazing! We've had a ton of positive feedback and excitement so far around the opening.
Why did you select Scarsdale for your third location? What seems right about the environment here?
Our customers have been telling us for years how their friends in Scarsdale always talk about how they really need a store like Funky Monkey. We listened. And after spending some time exploring the area and talking to members of this wonderful community, we knew Scarsdale was the perfect fit for our next location.
With so many businesses moving from brick and mortar to online, why are you moving in the opposite direction?
Our stores are known for providing a one-of-a-kind and fun in-store shopping experience. Everyone can remember the feeling of joy, wonder, and excitement when they walked into their favorite toy store as a kid. That feeling can't be replicated online. We specialize in providing that magical sensation while also serving the need for a local toy store where our toy experts can help our customers choose and gift wrap the perfect gift face to face.
Any thoughts on the state of the toy industry? What are the current trends?
The toy industry has been very strong especially since the pandemic and the outlook remains positive! Barbie was a big hit this summer with the release of the movie. The trend of product re-launches and nostalgia from the 90's and Y2K's continues to be a popular theme.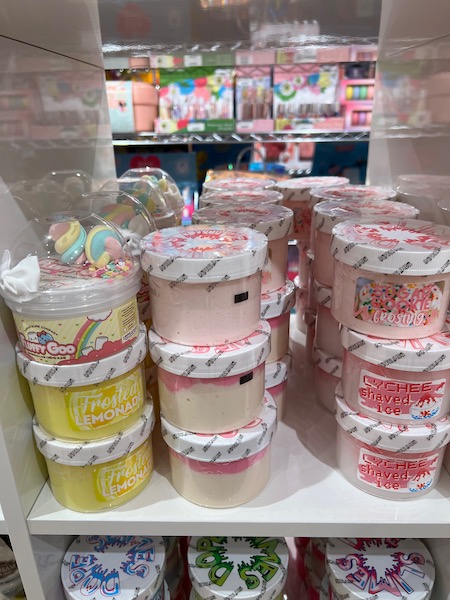 Are kids welcome to come in and browse the store with their parents?
100%. We love seeing children's eyes grow wide when they step in the door. We welcome customers of all ages to come shop and experience Funky Monkey.
Tell us about a few of the services you offer - such as goodie bags, personalization etc?
We specialize in our complimentary gift wrapping and bundling. Our customers love us because we make their lives easier when they need a birthday, baby or holiday gift. Shoppers can visit us in store or give us a call with their budget, the child's age and some general info about what they like and we carefully select the products and beautifully gift wrap them. We ship all over the country, offer local delivery and curbside pickup. We also sell toy goodie bags for parties and offer personalization on a wide range of items like ride-ons.
Stop by to check out Funky Monkey in the Golden Horseshoe Shopping Center. There's something for everyone!