Celebrating Diwali in the 'Dale: Should It Be a School Holiday?
Details

Written by

Wendy MacMillan

Hits: 1015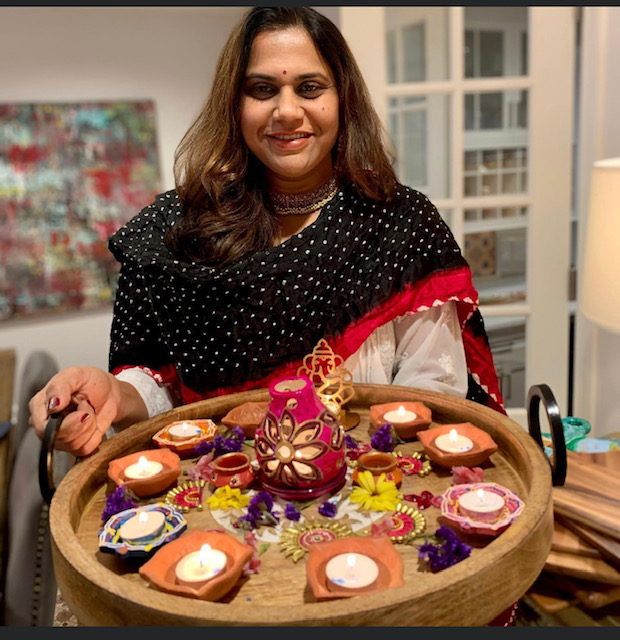 Sushma Shadaksharappa with Diyas ( Clay Lamps)You may have read recent headlines announcing that NYC public schools will observe Diwali as an official holiday, or maybe you saw friends and celebrities posting photos of their Diwali celebrations on social media, or perhaps you took note of politicians wishing all who observe, a Happy Diwali! Whatever the case, it has been hard to miss the buzz around this important spiritual holiday.
Since Scarsdale is known to have ample cultural diversity, it may come as no surprise that there are a significant number of neighbors celebrating Diwali right here in the 'Dale. The Scarsdale Public School District recognized the holiday with a message on their Facebook page, "Wishing you a Diwali that brings you happiness, prosperity, and joy…". The post went on to explain "Hindus, Jains, Sikhs and even some Buddhists around the world are celebrating Diwali today. Using light as a metaphor for knowledge and consciousness, this 'festival of lights' celebrates the symbolic victories of good over evil and knowledge over ignorance with lamps, candles, feasts and sweets."
Scarsdale resident Pallavi Mehta explained that Diwali is the "Festival of Lights" that celebrates the triumph of light over darkness and hope over despair. She said that Diwali honors the Goddess Lakshmi who symbolizes wealth, good health, and prosperity and that it is a high holiday in India that truly represents many Indian cultural traditions and beliefs. For the past fifteen years, Pallavi Mehta's family has been hosting a Diwali celebration in keeping with many of these cultural traditions. Her family gathers wearing traditional Indian clothing, conducts a puja (an act of worship) for Goddess Lakshmi and exchanges Diwali gifts and sweet treats (called Mithai) with family and friends. Mehta and her family adorn their house with flowers and diyas (small, clay lamps) to invite Goddess Lakshmi to bless their home. For their children, celebrating Diwali each year has allowed the Mehtas to pass on the religious and cultural aspects of their Indian heritage.
Although she is no longer in a strictly Hindu family, another Scarsdale local, Shilpa Spencer, feels it remains important for her to honor the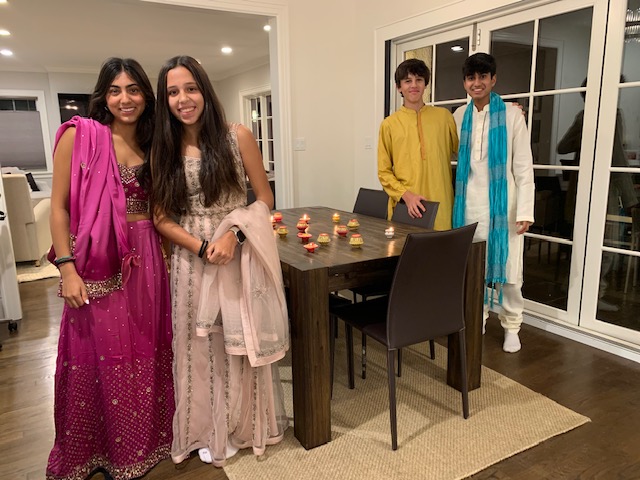 Spencer and Vora children dressed for Diwali.traditions of her childhood and to pass some of those traditions to her children. Spencer's childhood memories of Diwali are centered on great feasts, great company and great celebration. She remembers the celebrations as boisterous, joyful events with fireworks and a lot of laughing and dancing. As an adult, these are the aspects of Diwali that Spencer chooses to focus on: warm company, great food, and a festive atmosphere which over the years has come in many different forms. This Diwali, the Spencers invited good friends over for a smaller, but very festive dinner and fireworks which she hopes created strong memories for all that were there!
For Sushma Shadaksharappa and her family, Diwali is a very special holiday. To celebrate the Festival of Lights they place glowing diyas all over the house to signify light overtaking darkness. In addition to diyas, the family draws elaborate patterns on the floor with colored sand and decorates with fresh flowers to welcome Goddess Lakshmi and to pray to her. Most years, the Shadaksharappa family likes to make Mithai at home and then pack them in little, sweet boxes that they decorate and exchange with each other as well as gift them to friends.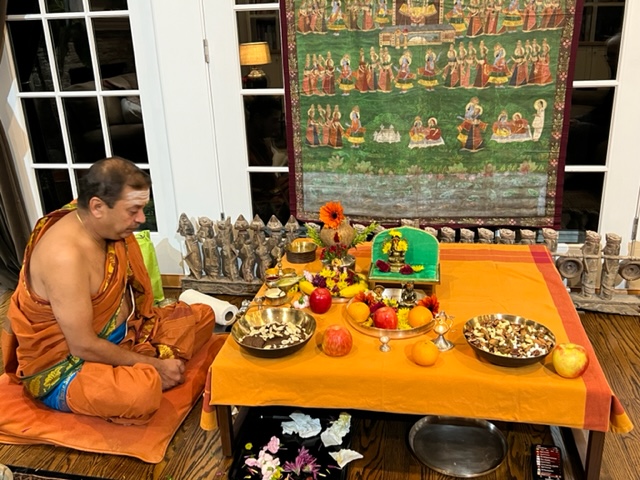 Hindu priest with Sheth FamilyWhen celebrating at home, Shadaksharappa prepares a traditional Indian meal for her family to enjoy after the puja but, before the pandemic, she and her family attended big, festive Diwali parties. In fact, for many years, Shadaksharappa and her friends organized a Scarsdale community Diwali party at a local Indian restaurant with food and lots of Bollywood dancing. Also for many years, the Indian community held a Diwali program showcasing cultural activities so both kids and adults could connect with their culture. Whether celebrating with friends or at home, the Shadaksharappa family likes to complete the Diwali festivities with firecrackers and sparklers and with lots of Mithai to end the evening on a sweet note.
For another Scarsdale resident, Minisha Sood, Diwali is a time to reflect and to be with loved ones. Sood begins decorating her home about a month before Diwali so she can get the Diwali spirit going and give her family a nice, visual cue to start thinking about the meaning of this important festival / holiday. During the days and weeks preceding Diwali, Sood talks often about family and choosing knowledge and wisdom over ignorance. In the week or so leading up to, and the week after Diwali, Sood takes part in local celebrations - some big and some small - which involve wearing new clothes, dancing, lighting fireworks and lights and eating delicious food. Sood and her family also say prayers for the continued wisdom to choose the righteous path in life.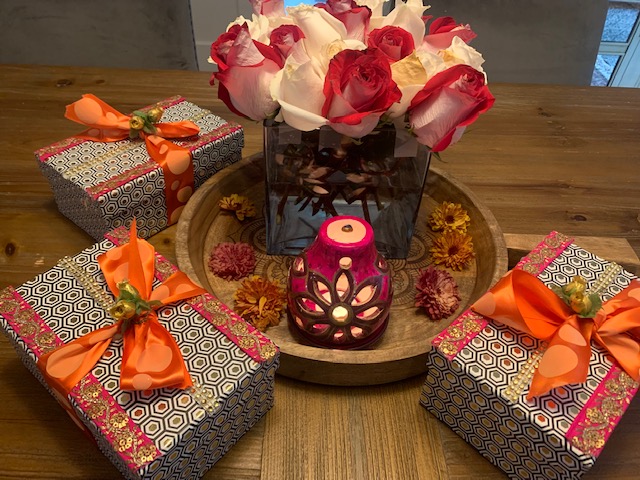 Handmade Mithai(Indian sweet) boxes.
For Sood, Diwali is such an important holiday that when her children were younger and it was easier for them to make up missed lessons or work, she would keep them home from school so they could fully participate in the celebration. Sood points out that as her children grow up and their deeper understanding of the meaning of Diwali crystallizes, they'd love to stay home and celebrate the holiday but they'd then miss very important academic work and so, are forced to make a tough choice. This year Sood's children chose to attend school and were pleasantly surprised that some teachers chose not to assign homework, yet others still did. Sood argues that because of the inconsistent awareness, instead of being able to relax with family, pray and enjoy themselves fully when they got home from school, her children were focused on completing homework. Sood feels it is unfortunate that Diwali isn't recognized as an official school holiday to reflect the broader community of Westchester and she hopes that this will soon change here in Scarsdale.
Sheetal Mehta wholly agrees with Sood and would like to see Scarsdale observe Diwali as an official school holiday. As Sheetal explains, "Diwali is THE most important festival for Hindus (also celebrated by some Sikhs, Jains and Buddhists too) and marks the beginning of the Hindu New Year. It is the time when, once a year, we come together as a family to offer prayers, exchange hope and give thanks. We thank God for our blessings and pray that our troubles go away. We celebrate by decorating the house, dressing in nice clothes, making traditional food and desserts, lighting sparklers and exchanging gifts. The mood is as if someone has sprinkled happiness all around. We cherish each other's presence and relish the joyful vibes all around."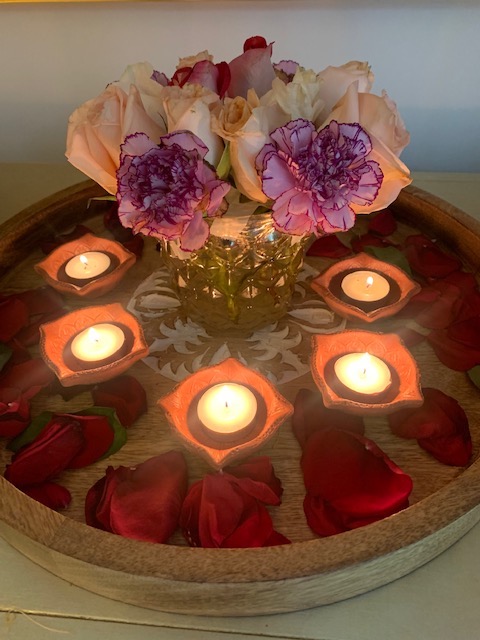 Diyas lit for Diwali"However, when the kids do not have the day off from school, the spirit to celebrate our most important festival does not remain the same. The day starts off with calls/messages to wish family and friends, but when there's no school holiday on Diwali, the kids are not able to exchange greetings. We decorate the house in the morning, which is a great activity to involve the kids in, only if they are at home. The kids want to stay home for this once-a-year celebration, but there's the trade off of missing instruction/tests/quizzes/school work etc. if they were to miss school." Without observing Diwali as an official holiday, Mehta says that her children "come home tired in the afternoon, with homework and tests on their mind. They are not as excited to get dressed in traditional clothes and participate in offering prayers in a timely way. It becomes a half hearted attempt at the most important part of the celebration…Not having a day off for Diwali presents a lot of challenges to keep our cultural identity alive."
And finally, even though she is kept busy with her job as a realtor at Houlihan Lawrence here in Scarsdale, Bela Sheth still somehow finds the time to beautifully decorate her home with diyas, and flowers and to lovingly prepare a delicious Indian feast called an Annkut, with 60 different dishes! While she frequently opens up her home and warmly invites all friends and loved ones to join her family in a festive Diwali celebration, this year Sheth hosted a Hindu priest who performed a traditional worship service. Dressed in customary Indian clothing, Sheth and her family took part in a special puja where they kept with Hindu tradition and made several offerings of fruit, flowers, and sweets to Lakshmi and Ganesh. Sheth explained that there are different auspicious times of the day that are difficult to celebrate when children are at school so she and her family usually only celebrate in the evening. With smiles lighting up the room just as brightly as the glowing diyas, it is easy to conclude that Sheth and her family are indeed blessed with happiness, light, and joy and readily share it with others.
The author would like to thank all the families that shared their stories of celebration and allowed the greater Scarsdale community to gain a better understanding of the importance of this high holiday.
Wendy MacMillan is a former teacher and now a proud mom of two, school aged children. With a background in psychology, education, and mindfulness, Wendy has long been passionate about wellness and helping others.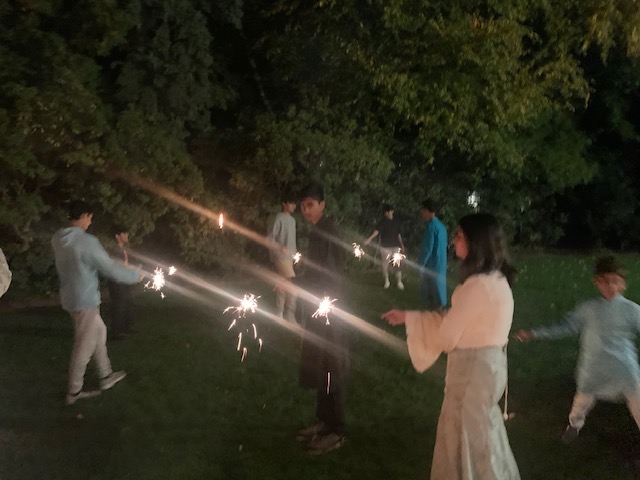 Children light sparklers

Halloween Window Painting Contest Winners 2022
Details

Written by

Joanne Wallenstein

Hits: 1234
Young artists produced beautiful window paintings for the 71st year of the annual Scarsdale Halloween Window Painting event. The store windows of Scarsdale Village, Depot Place and the Golden Horseshoe were painted by individuals and pairs and the top prize winner in each category are pictured below.
The Grand Prize went to Isabelle Zhu for her skeleton painted at left.
In total, 204 entered the contest with an additional 158 painters in the family category that was not judged.
Beautiful fall weather made the day a big success.
Here is the complete winner's list along with their work.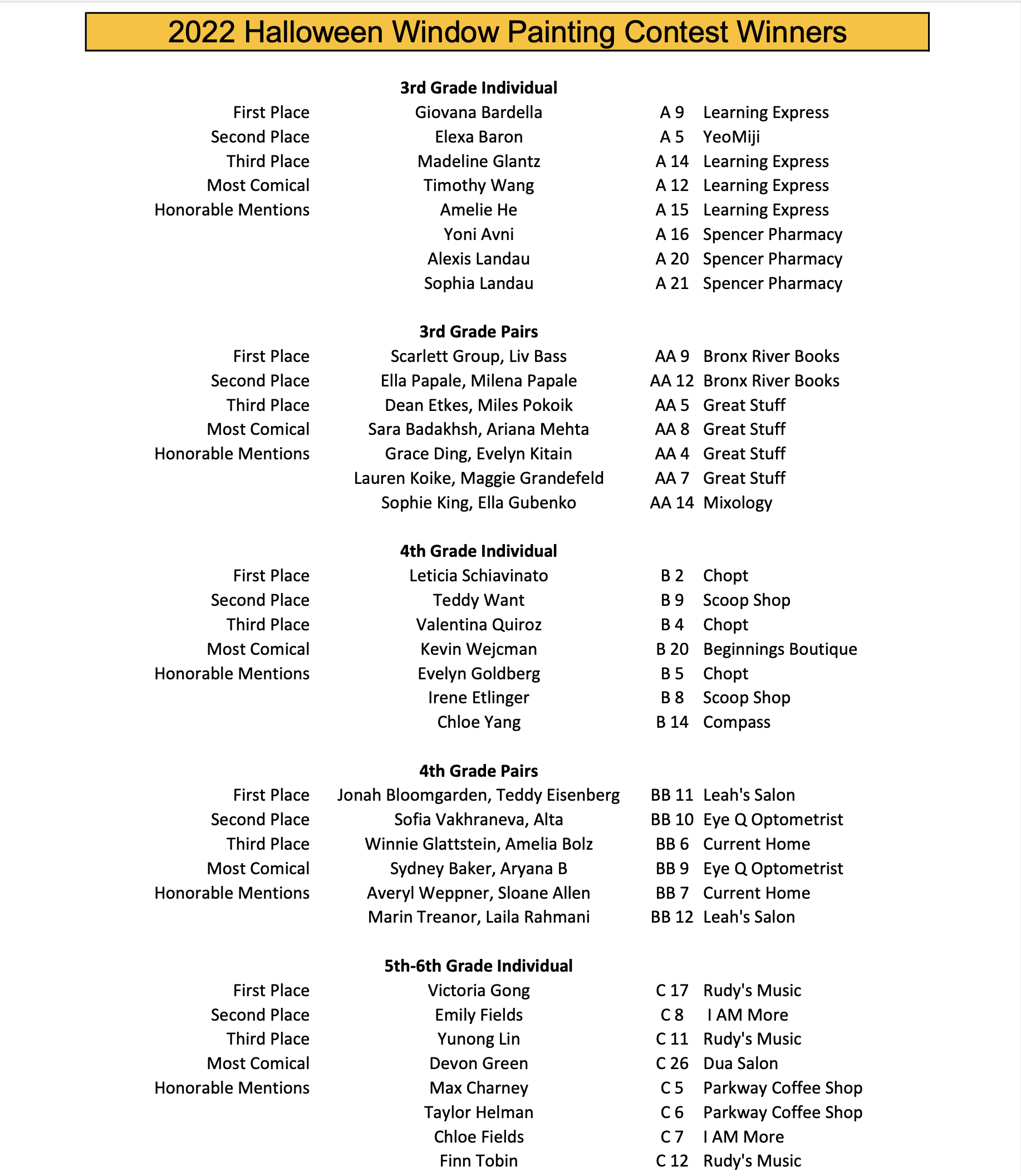 First Place 9th Grade Individual - Alexandra Israel
1st Place Ninth Grade Pair - Olivia Bercun and Dia Mody
First Place Seventh and Eight Grade Individual - Alexandra Thela
First Place Seventh and Eighth Grade Pair - Sophie Luo and Michelle Peng
First Place Fifth and Sixth Grade Individual - Victoria Gong
First Place Fifth and Sixth Grade Pair - Irena Mao and Helen Feng
First Place Fourth Grade Individual - Leticia Schiavinato
First Place Fourth Grade Pair - Jonah Bloomgarden and Teddy Eisenberg
First Place Third Grade Individual - Giovana Bardella
First Place 3rd Grade Pair- Scarlett Group and Liv Bass

Library Board Issues Response to Complaints from Former Part Time Employee
Details

Written by

Joanne Wallenstein

Hits: 2321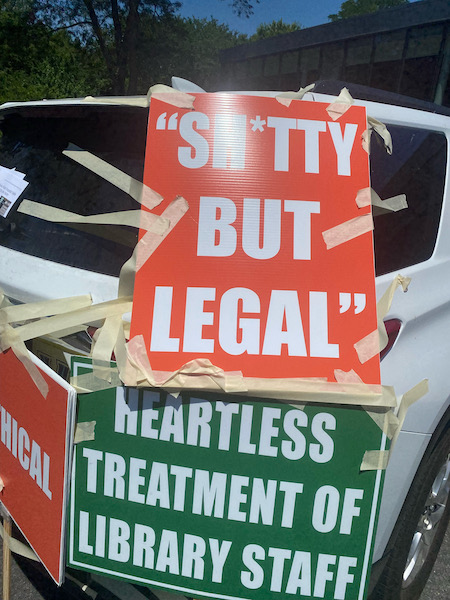 Perhaps you have noticed an unusual site around Scarsdale – a protestor who pickets at many local events and frequents the Village and the library. She has made her presence known at Library and Village Board meetings and we spotted her this month at concerts in the Village, and even at a meeting of the League of Women Voters of Scarsdale. In addition to picketing, Stettnisch has emailed Village Trustees, the Library Board, the Mayor and local officials.
For those who have not engaged with her, Robin Stettnisch is a former part-time employee of Scarsdale Library whose job was eliminated when the library closed for renovation in 2018.
As a part time employee her job was not protected by the union and according to a 9/26 statement from the Library Board, "The decision to reduce the part-time workforce was made after considering the financial consequences on impacted employees as well as the Library's fiduciary obligations. The Library's workforce reductions were made in close consultation with the Library staff's union, the Civil Service Employee Association, and conformed to all Westchester County Civil Service rules."
And even Stettnisch seems to recognize that she has no legal claim against the library. The signs on her car say, "Shitty But Legal," indicating that she finds her treatment "shitty" but that the Library followed the law in eliminating her job.
But here's where to the two stories diverge:
Stettnisch says that Library Director Elizabeth Bermel "gave me her word that I would get my job and salary back when the newly renovated library reopened."
The Library Board statement says, "No part-time employee, including Ms. Stettnisch, was promised to be rehired at their previous salary after the completion of the renovations. Despite Ms. Stettnisch's repeated public assertions of a verbal promise from Ms. Bermel, this simply did not happen."
How many hours did she work for the library? The Board's statement says, "While she had been employed at the Library in various positions since 1988, she was a part-time employee on and off from 2001-2018 working an average of 3.5 hours per week."
However Stettnisch reviews only her hours from the last two years of her employment and says, "In 2017, before the library closed, I earned $21,156 which averages 9.27 hours per week. In 2018 the library was open for 6 months and I earned $13,431 which averages 11.77 hours per week."
What is she asking for?
The Library Board statement says, "Ms. Stettnisch has demanded from the Library that she will stop picketing in exchange for $1.8 million (source: Stettnisch email 3/14/22). She has also written that she will not stop picketing unless she is rehired at her previous salary plus a raise, paid retroactively for all of the years that she did not work for the Library, given gas money for her travel to and from picketing, and compensated for the cost of her picket signs (source: Stettnisch email 6/29/22)."
But Stettnisch now says the $1.8 mm statement was a "tongue in cheek" comment. She explains, "Scarsdale Public Library Board met on 3-14-22 (after 7 months of them still completely ignoring me) and I attended on Zoom. The Library announced they had a $1.8 million dollar surplus and the Board was absolutely ecstatic! They were falling all over themselves congratulating SPL Director Beth Bermel on her wonderful achievement! They were joyously brainstorming ideas about what could be done with all that extra money that Beth saved....
And so, I reminded them that part of the $1.8 million dollar surplus was there because of what was so unethically, immorally and heartlessly done to the staff... I pointed out that what they saw as "fiscally responsible" was indeed "morally reprehensible". I pointed out they shouldn't be rejoicing over money saved if it was saved by intentionally hurting long term employees and their families.
That is where the $1.8 million dollar "tongue in cheek" statement came from. And the Board knows that. Just another failed attempt to purposely, deceitfully, mislead the residents of Scarsdale."
What does she really want? Stettnisch says, "I started out over 1 year ago in August 2021 asking the Library Board, the Mayor, and the Village Board, simply for my job and salary back as promised by Beth. I simply asked them to stand up and do the right thing. And they all chose, and still do, to completely ignore me. Heartless."
We asked Stettnisch if she plans to continue her campaign but she did not reply to our question.
See statements from the Library Board and Stettnisch here.
Neighbors Dig in at Greenacres Neighborhood Association Pancake Breakfast
Details

Written by

Joanne Wallenstein

Hits: 470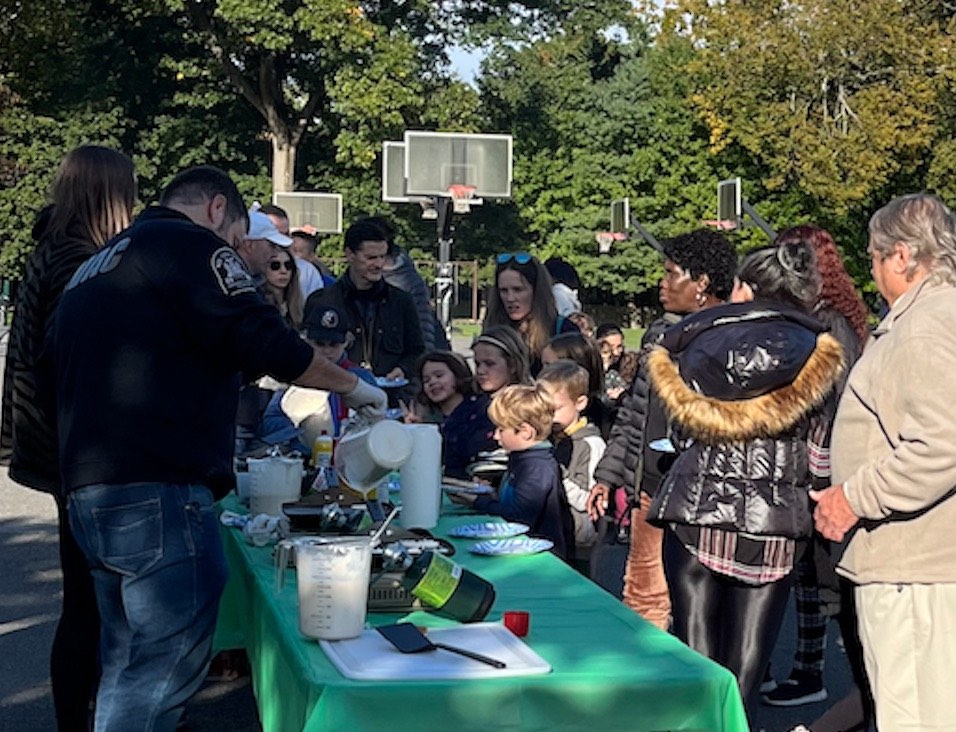 The Greenacres Neighborhood Association served over 150 people at its seventh annual Pancake Breakfast on Monday, Oct. 10.
The hungry residents arrived at Greenacres field by the dozen to enjoy camaraderie and fresh-made pancakes, coffee, cider and hot chocolate.
"Everyone - from babies to grandparents - reveled in the gorgeous weather, delicious food, and neighborly conversation. As we always say, Greenacres is the place to be, and this morning truly demonstrated that sentiment," said Kristen Zakierski, Greenacres Neighborhood Association President.
Members of the neighborhood association's board along with community volunteers helped to make the morning a success.
After a pandemic-inflicted hiatus, the GNA resumed its flagship community events over the summer with its July 4th Celebration and outdoor movie night last month.
For more information, visit greenacres10583.com.
An Apartment That Feels Like a Home
Details

Written by

Joanne Wallenstein

Hits: 717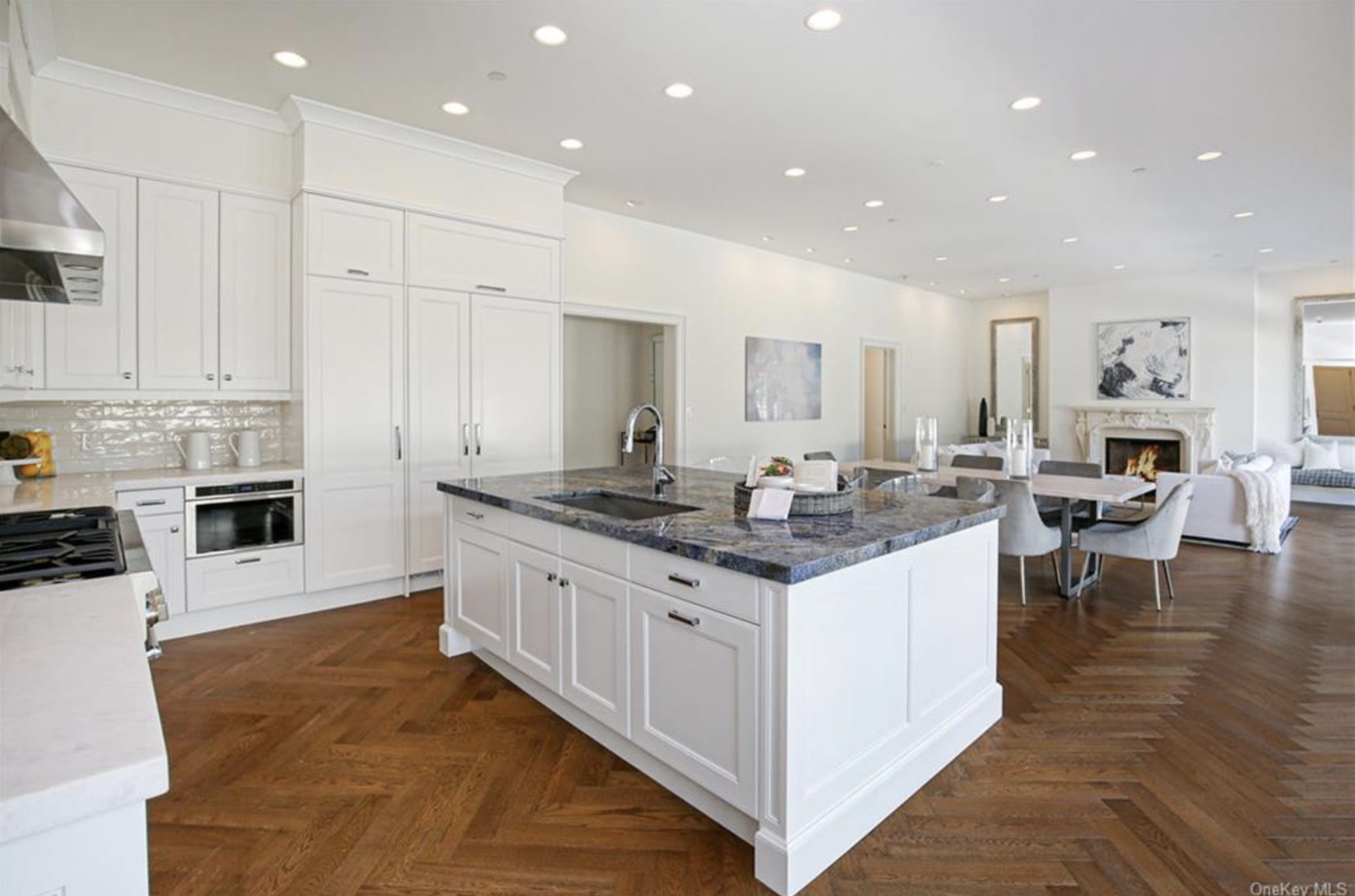 Locals and realtors were treated to a preview of one of the penthouse apartments of The Heathcote on Thursday September 15. The spacious and luxurious three bedroom apartment has an outdoor terrace overlooking Weaver Street and beyond, that was almost half the size of the indoor space.
Who says you have to give up the outdoors if you move to a condo!
The penthouse included a state of the art kitchen with top of the line appliances that opened onto a 30 foot dining room and living room with a fireplace. It was easy to imagine hosting holidays and parties at the lengthy dining table.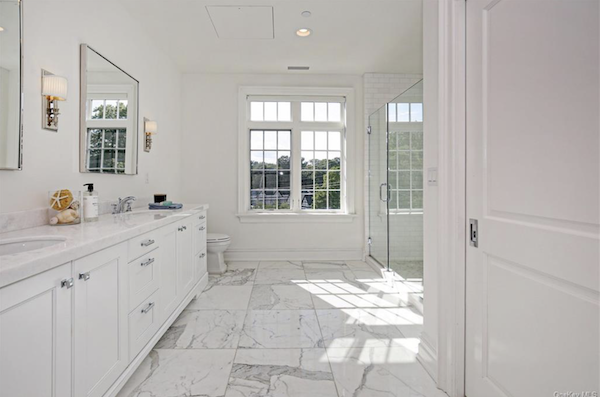 Other jaw dropping features included a 17' by 7' bathroom in the primary suite with separate soaking tub, shower and double sink and another terrace off the bedroom. A 14' X 9' walk in closet had been outfitted by California Closets and there was even a separate laundry room with oversized washer and dryer.
Two additional bedrooms with adjoining bath along with a half guest bath and gracious foyer make this a home to rival any single family house in town.
And if that's not enough, you also get a doorman, a garage with charging stations, a fitness center and an invitation to bring your dog.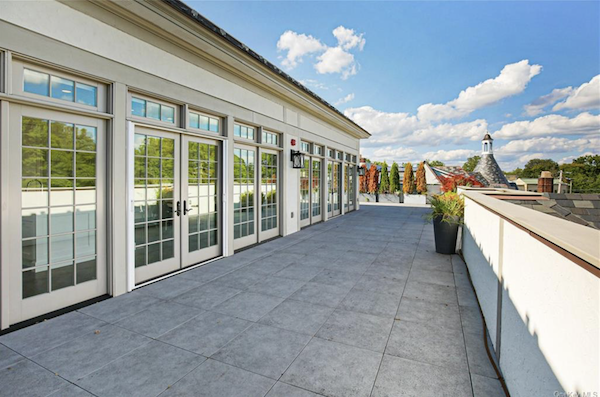 The building converted to a condominium on August 1, 2022 and five apartments are now sold or under contract. There are two, three and four bedrooms coming to market soon.
This and several other units are available and ready to view. Learn more here: https://www.theheathcote.net